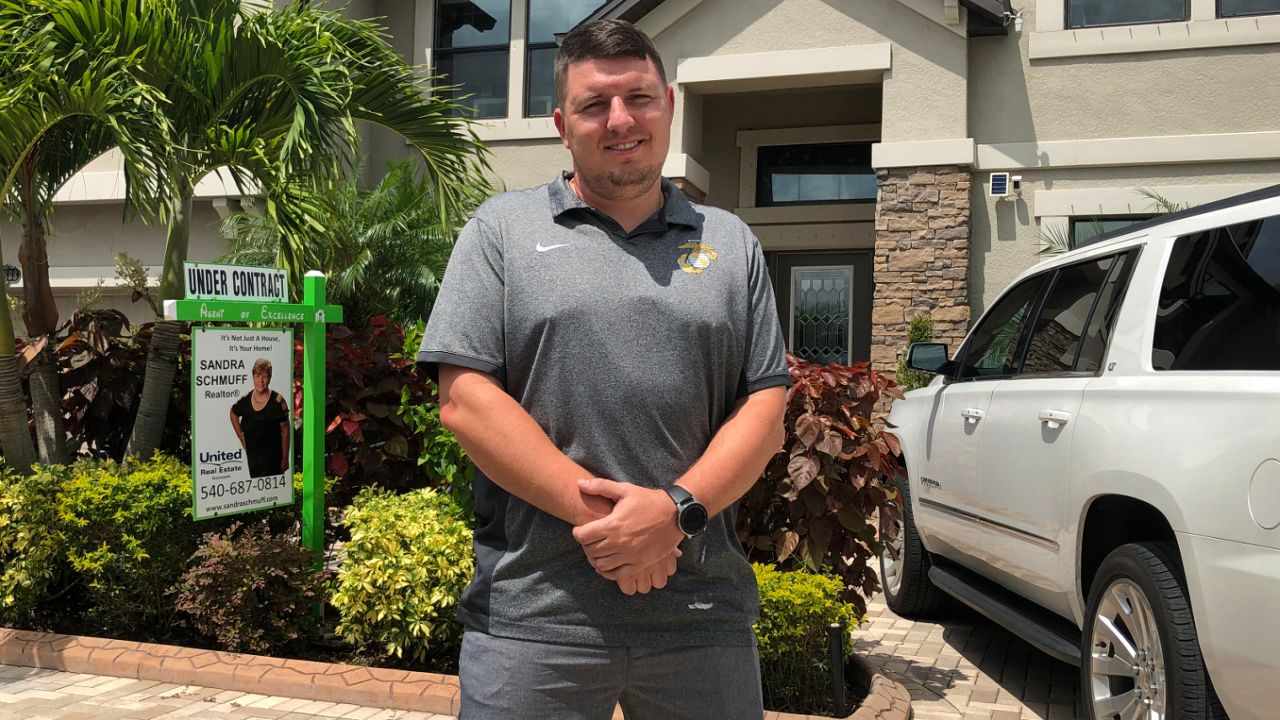 PINELLAS COUNTY, Fla. – Disabled Marine Corps Veteran Frank Schmuff Junior wants to shed some light on a U.S. Department of Veteran Affairs COVID-19 policy that requires a seller to completely vacate their home before it can be appraised.
---
What You Need To Know
Veteran takes issue with VA COVID-19 policy
Frank Schmuff Jr. thinks VA eventually eased up to due to public pressure
He hopes to move family into new home
---
"I don't feel that the best interest of the veterans are served with this policy," Schmuff said. "Or with the lack of common sense to the approach of this policy."
Schmuff said he found a $1.75 million home in Tarpon Springs that he wants to move his family into from Riverview.
"We put an offer on the house, it was accepted, it went through," he said. "Alright this is real, this is serious. We're going to move. So, we listed our house for sale."​
The veteran said a buyer quickly snatched up his Riverview home and the family has to move out by the end of September. Schmuff said he ran into trouble when he tried getting the Tarpon Spring home appraised.
"He was not willing to go into the home to do the appraisal because he said that he's high risk to COVID, which we understood," he said. "They stated because of COVID it's purely at the discretion of the appraiser."
Schmuff said the VA COVID-19 policy calls for the seller to completely vacate the home before it can be appraised.
"We said, 'Well you mean leave for the day, right? Clean everything up. Leave for the day?'" he said. "No, must vacate the property entirely."
Schmuff said the seller, buyer and appraiser all agreed the appraisal should be re-assigned to someone who's not high risk and willing to enter the home but the VA refused citing the policy.
"The VA said this house is locked in the VA appraiser system," he said. "It's assigned to this appraiser."
Schmuff said he knows the VA has appraisers who are willing to go into homes that aren't completely vacated because he had his Riverview home appraised this past week.
Spectrum Bay News 9 asked the VA about this policy and a spokesperson wanted more time to get back to us. We agreed to give that extra time but still did not get a response by our deadline.
Schmuff said the VA loan officer he worked with told him the same thing has happened to other veterans and they lost their prospective homes.
"She stated that this is not a unique situation," he said. "That there are other veteran families that have lost their homes because they couldn't go in and complete an appraisal on a complex house." ​
Schmuff said on Wednesday, the same day his contract on the Tarpon Springs home was set to expire, the VA came down with a last minute accommodation to do an exterior appraisal. The veteran said he managed to get extra time from the seller and has become hopeful he may be able to purchase the home after all.
Schmuff believes the VA eased up at the last minute because of public pressure.
"I think it's bringing attention to it. The sad part is I don't think that should be necessary," he said. "It was my hope that the VA process is an honest broker for us, for the veterans and would be able to come to some kind of resolution without notifying the governor's office, the news outlets and the offices of the VA up in DC in order to get something to move."