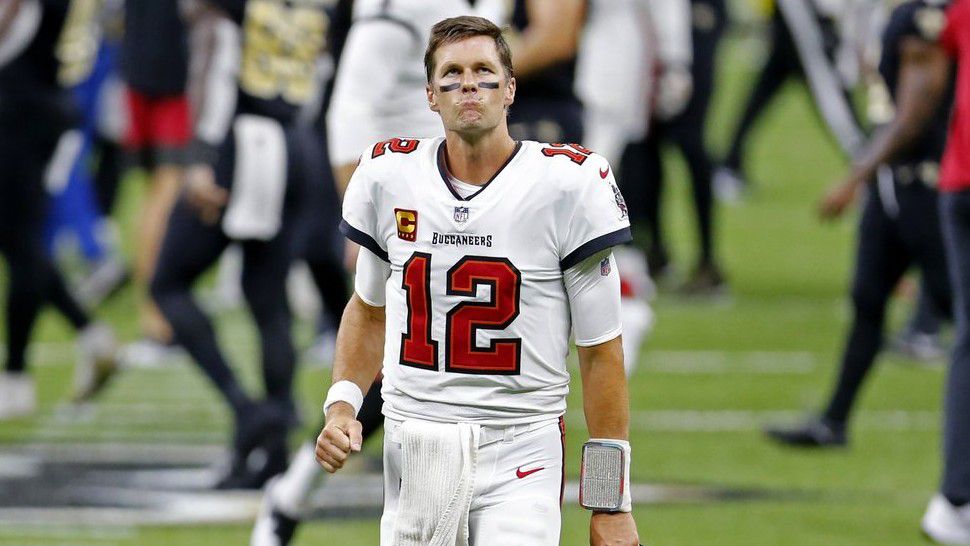 TAMPA, Fla. — The Tampa Bay Buccaneers have a lot of things to fix if they're going to realize their potential this season..
The Tampa Bay Buccaneers lost 34-23 to the New Orleans Saints in their season opener
Tom Brady threw two interceptions in the loss, blaming himself for each miscue
The Buccaneers play the Carolina Panthers in Week 2
Tom Brady says it. So does Bruce Arians.
Truth is, every team in the NFL is saying the same thing one game into a journey they hope will wind up at the Super Bowl.
While it would be nice to be 1-0, starting 0-1 hardly is cause for alarm.
"Every team is going to wish they did things better," Brady said after struggling in his much-anticipated Bucs debut in New Orleans, where he threw for two touchdowns but also had one of his two interceptions returned for a second-half TD in a 34-23 loss.
Tight end O.J. Howard suggested if there was a silver lining to losing to the Saints, it's that a talented-laden team with lofty expectations might benefit from being served a piece of "humble pie" early — rather than later — in the season.
Brady, a six-time Super Bowl champion, wasn't buying it.
"It doesn't matter how much talent you have if you throw interceptions returned for touchdowns," the 43-year-old quarterback said, "so I've got to correct that."
Arians conceded Monday that he was surprised that Brady struggled after beginning the game with an 85-yard touchdown drive.
"He looked like Tom Brady in practice all the time, so it's kind of unusual to see that in the ballgame because they didn't do the things that we didn't get ready for. Everything they did, we thought we were ready for," Arians said.
"Can't say we were out of sync because we started out as good as you could start out going right down the field. Then, we don't get any more chunk plays other than pass interference penalties," the coach added. "I think it's a great learning experience. It's just Round 1 of a 16-round fight, and we'll learn from it."
Arians offered a blunt assessment of the interceptions, attributing one to a miscommunication between Brady and receiver Mike Evans, saying the other was a "bad decision" on a sideline throw Saints cornerback Janoris Jenkins turned into a Pick-6.
Arians, who has also worked with Peyton Manning, Ben Roethlisberger, Carson Palmer and Andrew Luck during a long coaching career, doesn't shy away from making critical comments about the play of his quarterbacks.
"It speaks for itself. If you're throwing an out route, you don't throw it low and inside. And that hasn't been the case up until that one, " Arians said. "(He) was a little bit late on it, and it probably (would have been) a better decision to go somewhere else with the ball."
The coach, however, stressed Brady and the Bucs will be fine.
"He knows how to bounce back," Arians said. "He knew he didn't play very well. It's not what he expects from himself, nor do we expect. I would anticipate him to have a little more grit, a little more determination this week."