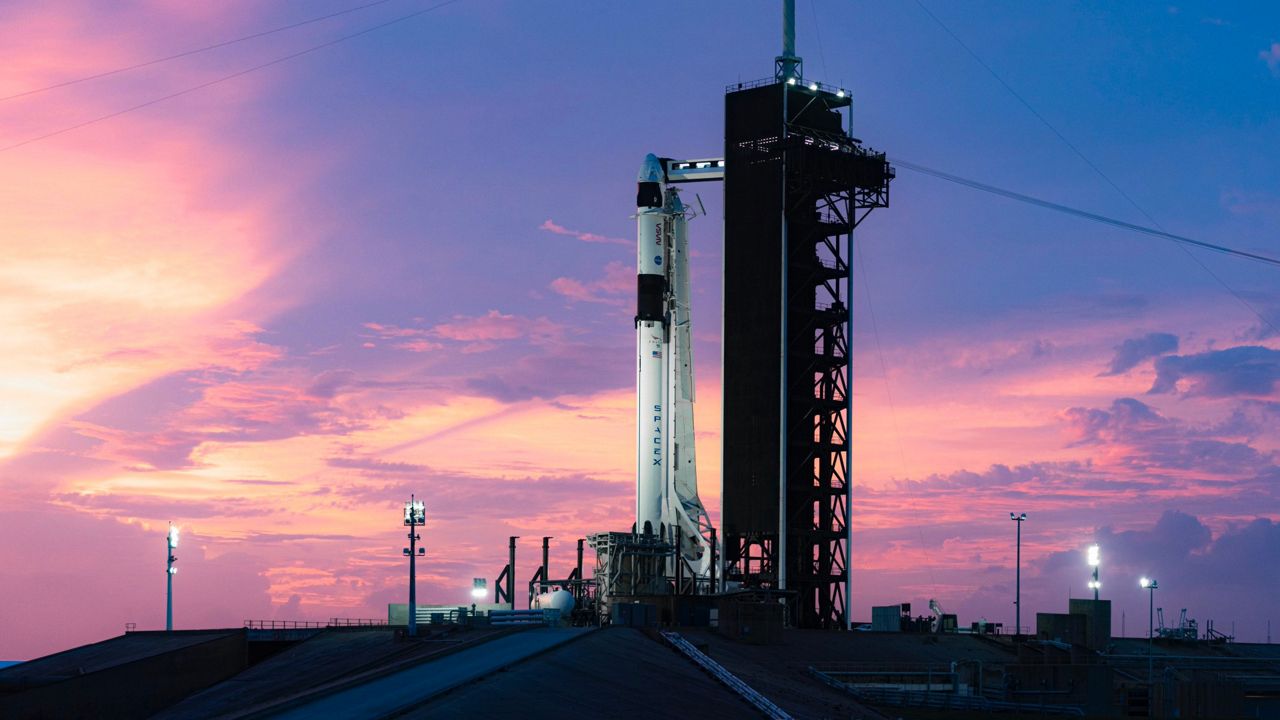 KENNEDY SPACE CENTER, Fla. — Four astronauts currently at Kennedy Space Center in Florida are set to embark on another historic mission: The first of what SpaceX hopes to be many crew rotations for NASA to the International Space Station.
---
What You Need To Know
Crew-1 launch set for 7:27 p.m. ET Sunday from Kennedy Space Center, 50 percent chance of go
4 astronauts will head to ISS for 1st of series of rotations to the station
SpaceX Crew-1 astronauts scheduled to stay on ISS for 6 months
Meet the 4 astronauts assigned to Crew-1 mission:
---
This launch will send a SpaceX Crew Dragon spacecraft with the four astronauts for a long-duration stay at the ISS.
The capsule will be atop a Falcon 9 rocket that will lift off at 7:27 p.m. ET Sunday from historic Launch Pad 39A at Kennedy Space Center, Florida, where the test flight took place. The target launch time has been pushed back a couple of times: Once from Halloween to Saturday, and then from Saturday to Sunday.
Astronauts Michael Hopkins, Victor Glover, Shannon Walker and Soichi Noguchi from the Japan Aerospace Exploration Agency will kick off this first operational flight Sunday.
"One of my favorite things about (Crew Dragon) is it has four seats, and it's going to get four of us to the International Space Station. I'm really looking forward to that," Glover said.
Russian Soyuz spacecraft routinely carry three people to space, but SpaceX's Crew Dragon is designed to carry up to seven.
"It doesn't sound like a lot. You're adding just one more person that what we normally have up there, but having one person increases our ability to work much more," Walker said.
Once on board the ISS, the Crew-1 team will join a NASA astronaut and two cosmonauts to begin research and science experiments that can only be performed in space.
NASA thinks the additional members will double the amount of research that can be conducted in microgravity.
"I think some of the advantages is you'll have crew that can carry out the science and experiments… If something breaks on station, you don't have to stop," Walker told Spectrum News. "You've got other crew that can deal with the maintenance or basic day-to-day of the station life.
"So we'll all be doing everything, but together we can just accomplish so much more while we're there."
The Crew-1 team is scheduled to stay aboard the ISS for six months. This spring, the next four astronauts will launch from Florida's Space Coast as a part of the Crew-2 mission. SpaceX is planning to reuse the first-stage booster from Crew-1 on the Crew-2 mission.
Commercial Space Missions Pick Up Steam
Crew-1 is the first operational crewed mission for NASA's Commercial Crew Program and the beginning of privatizing low-Earth orbit. NASA has been working with commercial companies such as SpaceX and Boeing to make that happen.
The goal is for the space agency to become a customer rather than a launch provider.​
On Friday morning at Kennedy Space Center, NASA Administrator Jim Bridenstine and other officials outlined the commercial crew program, which is expected to bring more access to space than ever before.
There have been dozens of commercial resupply missions to the ISS through NASA's commercial space partnership, with uncrewed capsules transporting supplies and equipment to astronauts and cosmonauts aboard. Those crews previously relied on Soyuz spacecraft to get there.
That is, until May, when SpaceX's Demo-2 test flight saw the first pair of NASA astronauts ferried up to the ISS on a Crew Dragon capsule and the first to blast off from U.S. soil since the end of the space shuttle program a decade ago.
"The next big phase is commercial space stations themselves, where we have private capital, and NASA as a customer as well, that's ultimately capitalizing, funding forward, for this new era of human spaceflight," Bridenstine said.
The FAA has overseen launches for decades, but Sunday's planned launch is the first crewed spaceflight for that agency. In fact, once space tourism takes flight, the FAA will likely license more than 100 space operations a year.
As with many Space Coast launches — and especially historic ones such as this that fall on a weekend — Titusville Police are advising motorists to expect heavy delays while traveling through the area. They urge motorists to slow down at launch-viewing areas, such as at U.S. 1 and State Road 406, along the Max Brewer Bridge, since there will be many pedestrians hoping to catch the night launch.