After bringing heavy rain and flooding to parts of Florida on Sunday, Tropical Storm Sally is now eyeing parts of the Gulf Coast.
The storm is expected to strengthen into a hurricane before it makes landfall Tuesday night. Hurricane warnings stretch from Morgan City, Louisiana to the Alabama/Florida border. A storm surge warning is in place from Port Fourchon, Louisiana to the Alabama/Florida border.
These warnings include New Orleans and Lake Pontchartrain. Mandatory evacuations have been announced for those outside New Orleans' levee protection system.
A tropical storm warning is also in place from the Alabama/Florida border to Indian Pass, Florida and from Intracoastal City to Morgan City in Louisiana.
Heavy rain was the storm's primary problem in the Sunshine State after dropping nearly 10″ of rain in the Keys. Not only will it bring significant storm surge and gusty winds to the north-central Gulf Coast, but heavy rain and flooding will be likely to spread inland.
The slow-moving storm is forecast to drop feet of rain in some parts along the coast. Flash flood watches have been posted from the Florida panhandle and across southern Alabama, Mississippi, and Louisiana.
Spaghetti computer forecast models are in strong agreement that the storm will continue to track northwest over the Gulf before turning north. There is still question on when exactly that north turn will happen. Regardless of landfall location, the effects will be felt far from there.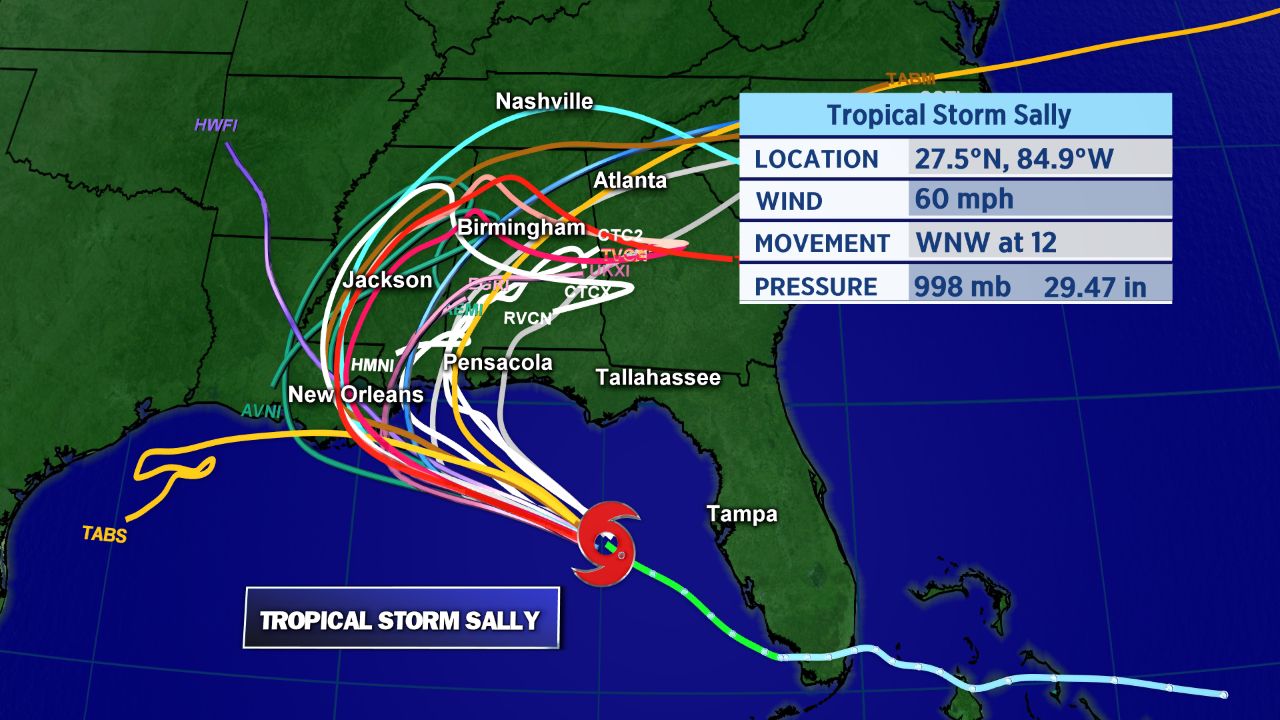 Sally is also the earliest named S-storm to form in the Atlantic in recorded history.
Hurricane Paulette Hits Bermuda
Meanwhile, Hurricane Paulette is churning through the Central Atlantic. It passed directly over Bermuda early Monday morning.
Hurricane warnings remain in place for the island as the rest of the storm passes over.
It is expected to intensify even further after it speeds away from Bermuda.
The southeastern U.S., Leeward Islands, Greater Antilles, and Bahamas could see life-threatening surf and rip current conditions.
Paulette became the sixth hurricane of the 2020 Atlantic hurricane season on Saturday, which is equivalent to the full-season average for the basin.
Tropical Storm Vicky Forms
Tropical Storm Vicky developed midday Monday after it started as Tropical Depression Twenty-One west of the Cabo Verde Islands earlier in the day. It's forecast to remain weak and fade away in a few days as it moves west into unfavorable wind and cooler waters.
This is the first time a "V" storm has formed in September.
Tropical Storm Teddy Set to Strengthen
Teddy began as a tropical depression in the Central Atlantic Ocean on Saturday, joining the busy midseason parade of storms. It became a tropical storm early Monday, the first "T" storm to form in September.
Teddy is expected to strengthen into a hurricane, it will be in open waters over the next several days. It may eventually affect Bermuda, however.
The Rest of the Atlantic
In the central Atlantic, Rene continues to linger but has weakened to a tropical depression. Rene is expected to dissipate within the next couple of days. Rene won't threaten the United States or the Caribbean.
Another tropical wave coming off the west coast of Africa has a medium chance of developing into a tropical cyclone later this week.
Another disturbance over the western Gulf of Mexico could also develop. It has a low chance of doing so, however.
Peak of the Hurricane Season
The average peak of the Atlantic hurricane season is around September 10. This time of year, tropical systems can develop just about anywhere with tracks across much of the basin. September also has a history of memorable hurricanes.
Five tropical cyclones at one time is rare, according to to Phillip Klotzbach, a meteorologist and researcher at Colorado State University.
This year continues to outpace the record-setting 2005 season.