After bringing heavy rain and flooding to parts of Florida on Sunday, Tropical Storm Sally is now eyeing parts of the Gulf Coast.
The storm is expected to strengthen into a hurricane Monday morning, threatening parts of the Gulf coastline. Hurricane warnings are now in place for parts of coastal Mississippi and Louisiana, including New Orleans.
Sally is also the earliest named S-storm to form in the Atlantic in recorded history.
Heavy rain has been the storm's primary threat to the Sunshine State, where flood watches have been expanded to the Panhandle after dropping nearly 10″ of rain in the Keys.
"(Sally) will continue moving west this weekend," says Spectrum News Meteorologist Brian McClure. "It will not change our forecast as we already planned for this to bring us more wet weather. However, this will change the boating forecast in the Gulf of Mexico with higher winds and rougher seas expect Saturday through Monday."
Hurricane warnings stretch from Morgan City, Louisiana to Ocean Springs, Mississippi. A storm surge warning is in place from Port Fourchon, Louisiana to the Mississippi/Alabama border.
These both include New Orleans and Lake Pontchartrain. Mandatory evacuations have been announced for those outside New Orleans' levee protection system.
A tropical storm warning is also in place from Ocean Springs, Mississippi to Indian Pass, Florida.
The cyclone is forecast to strengthen into a hurricane and reach Category 1 status before a landfall in Louisiana or Mississippi.
Spaghetti computer forecast models are in strong agreement that the storm will continue to track northwest over the Gulf before turning north. Even if landfall happens in Louisiana, the effects will be felt far from there.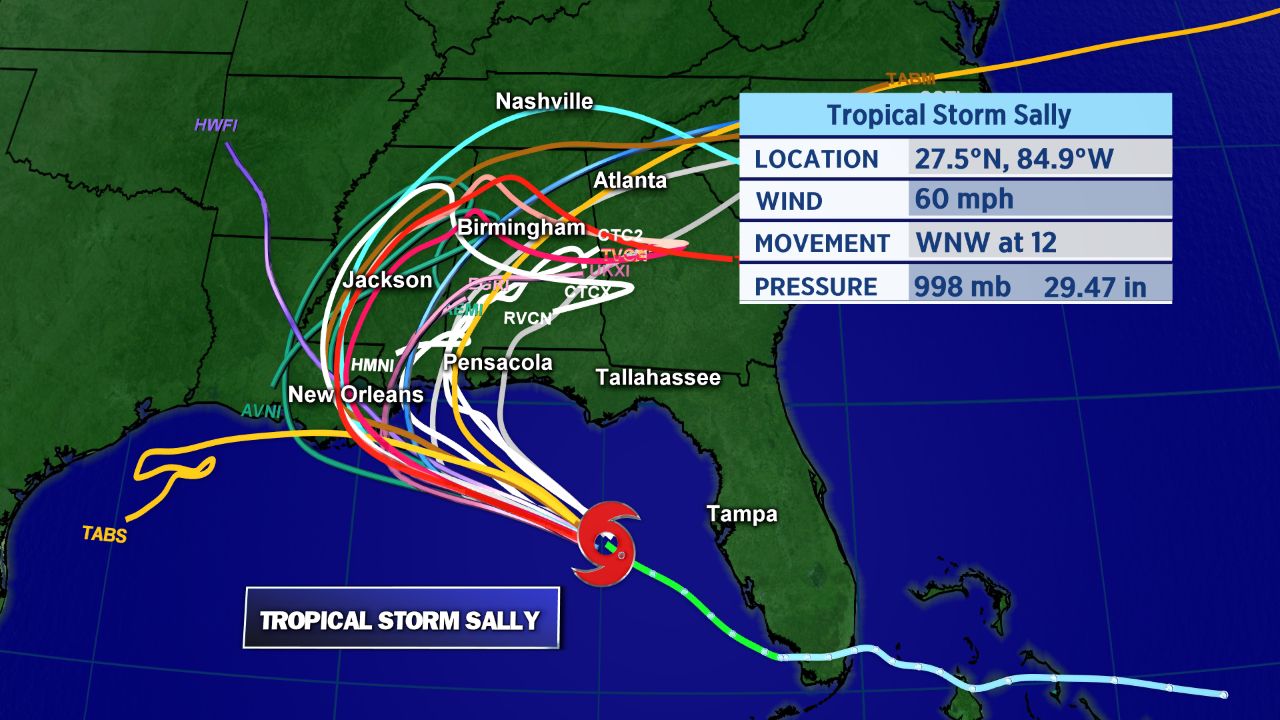 Not only will it bring significant storm surge and gusty winds, but heavy rain and flooding will be likely to spread inland. The slow-moving storm is forecast to drop feet of rain in some parts along the coast.
Hurricane Paulette Heads for Bermuda
Meanwhile, Hurricane Paulette is churning through the Central Atlantic. Its track takes it toward Bermuda before turning northeast.
Paulette has strengthened and could continue to intensify as it approaches Bermuda. Hurricane warnings are already in place for the island.
It is expected to become a Category 2 storm near Bermuda later Sunday. This will bring strong winds, storm surge, and heavy rain to Bermuda by Sunday night, lasting into Monday.
The southeastern U.S., Leeward Islands, Greater Antilles, and Bahamas could see life-threatening surf and rip current conditions.
Paulette became the sixth hurricane of the 2020 Atlantic hurricane season on Saturday, which is equivalent to the full-season average for the basin.
Tropical Depression Rene Falling Apart
Farther east, Rene continues to linger in the central Atlantic and has weakened to a tropical depression.
Rene is expected to weaken even further over the next day or two. Rene isn't expected to threaten the United States or the Caribbean at this time.
Tropical Depression Twenty Set to Strengthen
Yet another tropical depression formed in the Central Atlantic Ocean on Saturday, joining the busy midseason parade of storms.
Tropical Depression Twenty formed over the east-central Atlantic Ocean late on Saturday, and while it's expected to strengthen into a hurricane, it should stay out to sea.
Other Systems To Watch
Several other systems are being monitored in the Atlantic.
A tropical wave coming off the west coast of Africa has a medium chance of developing into a tropical cyclone.
One other system could also develop in the Gulf. It has a low chance of doing so, however.
Picking Up Again
The average peak of the Atlantic hurricane season is around September 10. This time of year, tropical systems can develop just about anywhere, although it's common for them to form where these two are. September also has a history of memorable hurricanes.
Before Monday, the earliest P-storm on record was Philippe, which was named on September 17, 2005. The earliest R-storm was Rita on September 18, 2005.
This year continues to outpace the record-setting 2005 season.