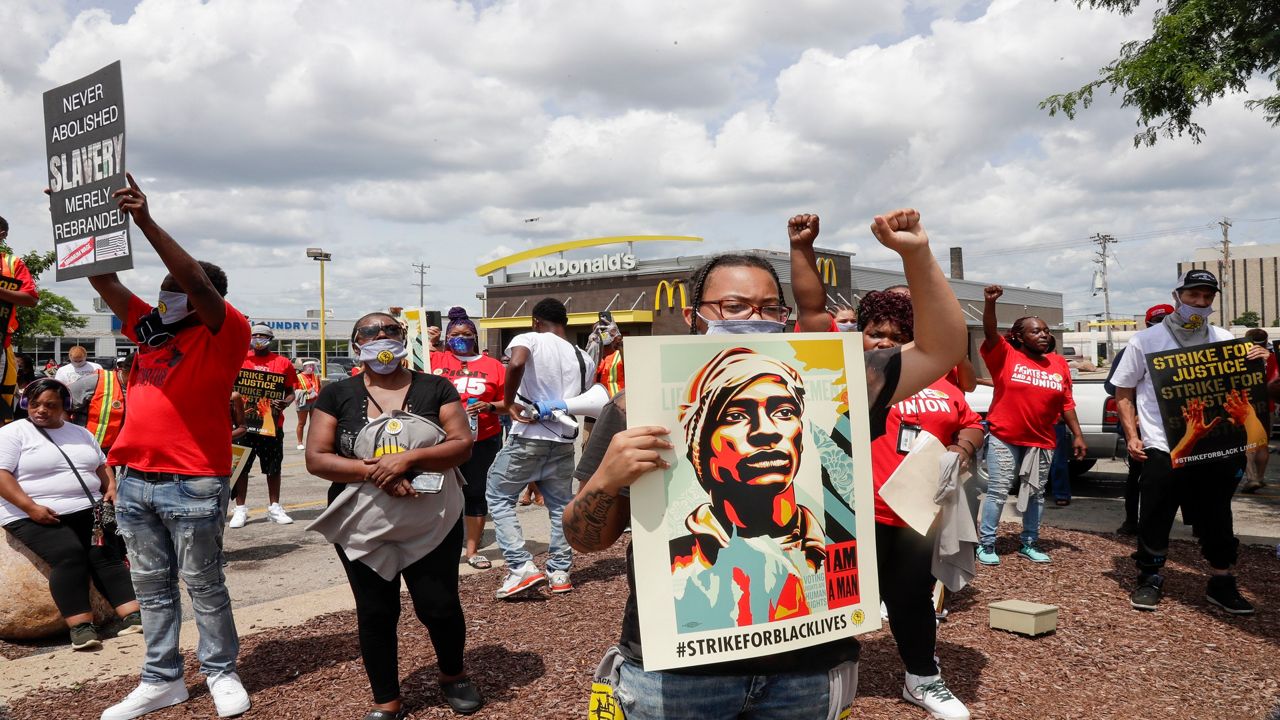 MILWAUKEE (SPECTRUM NEWS) — As the Democratic National Convention kicks off in Milwaukee, the party is looking at a much smaller physical footprint since much of its programming has moved online. Still, protesters are planning to make their voices heard, especially as President Trump's administration has recently announced its own slate of events for the week.
One of the protest groups leading the charge is the Coalition to March on the DNC, which will bring together local organizations and supporters from outside of Wisconsin to highlight a series of progressive demands, says Ryan Hamann, a co-chair of the group.
"We're trying to help further or advance the development of movements in the streets, you know, people's movements," Hamann says. "Because we understand that no matter who's the president, no matter who's in charge anywhere, it's movements in the streets, it's organizing, that ultimately influences change."
The group has announced plans for a march and rally on Thursday outside of the Wisconsin Center, the hub for the convention's remaining in-person programming, when presumptive Democratic Presidential nominee and former Vice President Joe Biden is set to accept the nomination remotely from his home in Delaware. They'll also be protesting President Trump's visit to Oshkosh on Monday — Hamann says that the coalition's "main goal is to defeat Donald Trump," even as they also hope to put pressure on Biden and other Democratic politicians. And throughout the week, the group is planning a series of banner drops at various locations leading up to the Thursday protest.
Hamann emphasizes that all of these actions are designed to be "family-friendly," where anyone can attend — as long as they're wearing masks.
"We're inviting everyone and anyone, and their families, to come and participate with us," he says.
Hamann says the coalition was started back in April 2019 when the DNC first announced its plans to bring the convention to Wisconsin, and since then, local activists have been at the core of the group's efforts. Hamann himself lives in Milwaukee and leads the state's Freedom Road Socialist Organization. Other local groups include the Milwaukee Alliance Against Racist And Political Repression, a recently formed group that focuses on police reform, and El Pueblo MKE, which focuses on Latino and Hispanic communities on the city's south side.
Regional and national groups have also endorsed the Coalition, representing anti-war, climate action, labor rights, and socialist messages. Many out-of-state supporters will probably be staying home because of the pandemic, Hamann says, but he still expects a decent turnout. Leaders from the #BernieOrVest campaign, a nationwide group of Sanders supporters that endorsed the coalition, have said they are still encouraging protesters to show up.
Among these groups, the coalition's platform is based on nine "Points of Unity," which include pushing for climate action, ending U.S. wars, and Medicare for All. For this week's protests, though, they are highlighting their call for community control of the police.
Hamann says the group chose to focus on this part of their platform in the wake of George Floyd's killing earlier this year and the resulting wave of protests across the world, which called for action against what he refers to as the "other epidemic" of police violence.
"We are trying to get the message out that we were demanding that Democrats like Joe Biden, and even local Democrats like the mayor of Milwaukee, Tom Barrett, that they do something to stop the other epidemic," Hamann says.
Hamann says they are working to bring attention to several cases of Wisconsinites who were killed by police, including Alvin Cole from Milwaukee, Isaiah Tucker from Oshkosh, and Jonathon Tubby from Green Bay. The families of these three men will be joining the coalition's protest on Thursday, with the hope of raising the cases to the level of national prominence, he says.
At a coalition press conference earlier in August, the family of Alvin Cole shared a message for the presumptive Democratic nominee.
"We congratulate you Joe Biden. We congratulate you on your position," Cole's sister said at the event. "But you've got to stand with us."
Throughout the week, other demonstrations are expected in Wisconsin as both Democrats and Republicans focus their attention on the state.