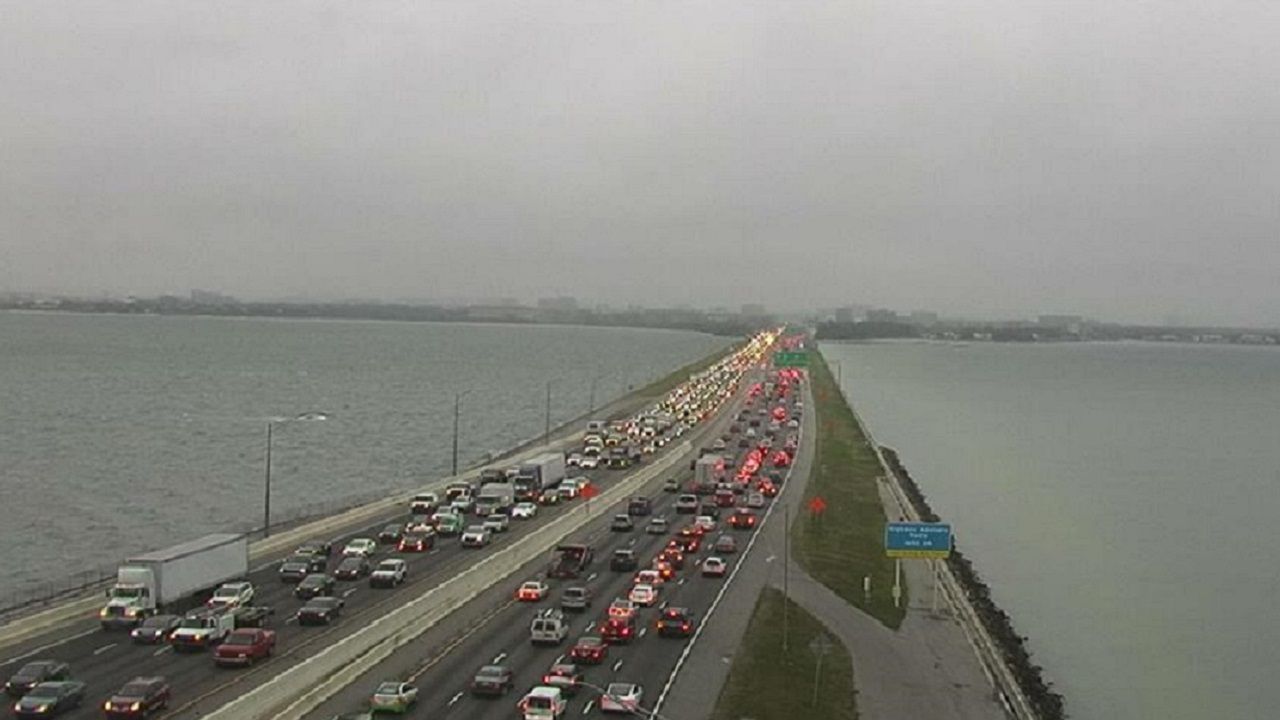 REMINDER: This work is still scheduled for Saturday, January 16. More information is posted below.
The closure is expected to start at 8 p.m. Saturday and last until noon the next day.
Use the video above to learn about the project's origin and goals.
FRIDAY AFTERNOON UPDATE:
After a day of uncertainty, officials have now set a new date for the construction work that will shut down the Howard Frankland Bridge.
That work was originally scheduled to take place this weekend but will now happen on Saturday, January 16. All I-275 travel lanes will be closed to traffic at 8 p.m., weather permitting. The plan is to reopen the bridge at noon on Sunday, January 17.
Officials say temporary signage will be set up to help detour drivers.
Drivers are being told to add around 30 minutes to travel time because the closure will likely increase traffic on the other bridges.
THURSDAY MORNING UPDATE:
This project will not take this weekend, after all.
In a news release, the county said: "Due to an unforeseen delay in the arrival of needed bridge equipment, the full closure for the Howard Frankland Bridge will be postponed to a later date. As soon as we know the new date for the closure, we will communicate that immediately. Thank you for your patience."
PREVIOUS STORY
TAMPA, Fla. — All I-275 travel lanes on the Howard Frankland Bridge will close from 8 p.m. Saturday, January 9 to noon Sunday, January 10, weather permitting.
Electronic message boards and temporary signage will assist I-275 northbound and southbound motorists traveling around this closure via the posted detour route using Roosevelt Boulevard, Gandy Boulevard, and Dale Mabry Highway.
---
What You Need To Know
All lanes of howard frankland bridge to be closed from from 8 p.m. Saturday, January 9 to noon Sunday, January 10
Closure due to construction; drivers advised to use Gandy and Courtney Campbell Causeway as alternates
MORE INFORMATION: FDOT
---
Other roadways (Roosevelt Boulevard, Bayside Bridge, Courtney Campbell Causeway, and Memorial Highway) will remain accessible and may provide an alternate route if needed.
Motorists should add approximately 30 minutes of travel time as traffic congestion and delays may occur while traveling on these roadways during this closure.
This closure is necessary for crews to remove the 4th Street North (SR 687) bridge over I-275 as part of the Gateway Expressway project.
If unforeseen conditions do not permit this closure, a rescheduled date of Saturday, January 16, is planned.