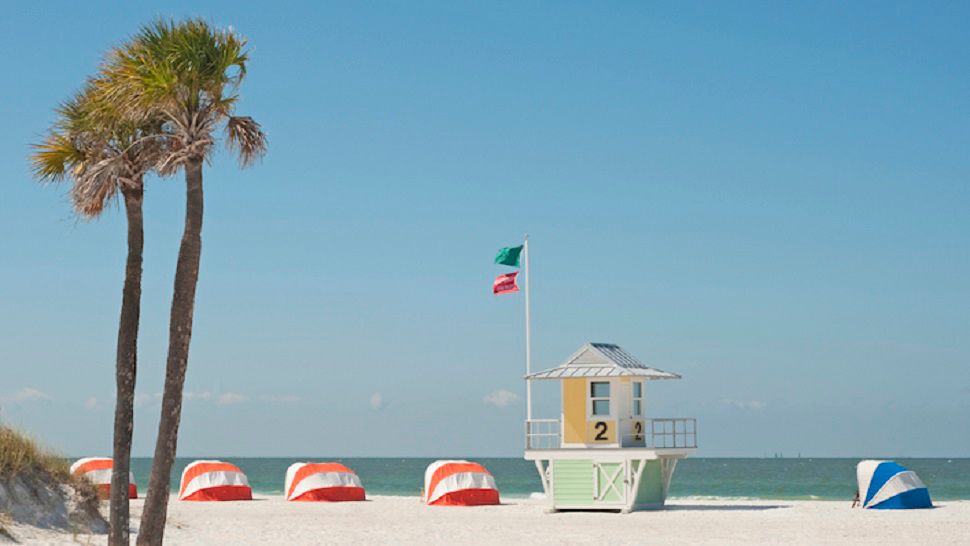 TAMPA, Fla. — The heat and humidity will hold strong on Friday with limited coverage of afternoon storms.
---
What You Need To Know
Ho on Friday with a heat index above 105 degrees.
We will have a few scattered thunderstorms
Expect increasing rain chances for the holiday weekend
---
High pressure has shifted north and drier air is in place which has limited the coverage of showers and storms recently. This trend will continue through Friday when the afternoon is hot and humid and the storm chances are low for this time of year.
The mornings start off decent with a good amount of sunshine, but the humidity is still here. So, if you want to get the outdoor jog in, do so early in the morning or later in the day when it isn't as hot.
The morning sun will allow temperatures to climb into the mid 90s Friday afternoon. The heat index will be between 105 to 110 degrees during the afternoon.
The sea breeze will gradually move inland during the afternoon and a few storms could develop along the sea breeze.
Storm chances will gradually increase over the weekend but the weekend itself will not be a washout. A slug of tropical moisture will move our way toward Monday, and that will increase rain chances quite a bit. The extra clouds will also keep our temperatures near 90 degrees.
Boating Forecast
A southeast wind becomes westerly during the afternoon around 10 knots.
Seas are one to two feet with a light chop on the bay and inland waters.
Most of the day will feature calm boating conditions but watch out for a few thunderstorms to develop this afternoon.
A Surge of Cool Air Headed Toward Gulf Coast
Much of the nation will get a taste of fall next week. It's a pretty impressive pattern that will allow the coldest air of the season to plunge south from Canada.
The cool air may make it to the northern Gulf Coast.
Florida will miss out on the action this go around. Our first cold front doesn't usually arrive until the second week of October, on average. In fact, our average high temperature doesn't dip below 80 degrees until November.