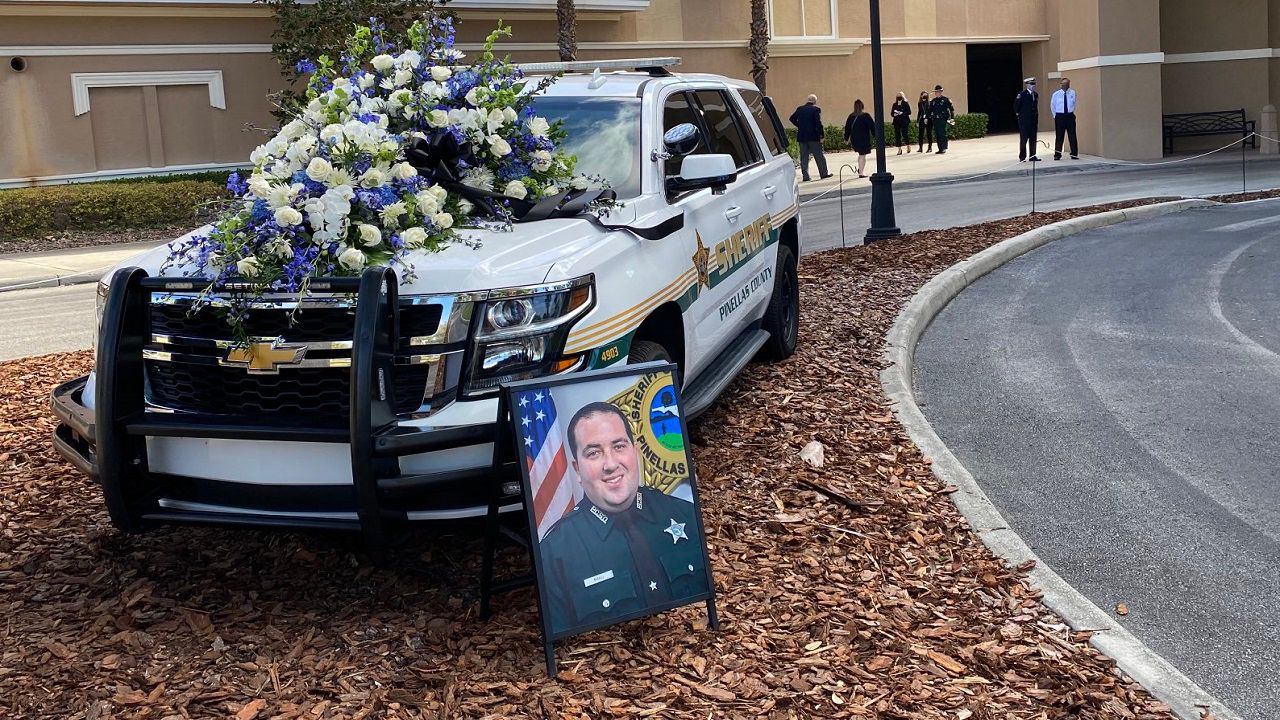 LUTZ, Fla. — Angel, hero, partner and prince were among the words used Tuesday to honor fallen Pinellas County Deputy Michael Magli.
---
What You Need To Know
---
The Pinellas County Sheriff's Office, fellow law enforcement officers and the community honored his life during a funeral service. He was killed in the line of duty last week.
Magli is the first deputy killed in the line of duty in the agency's history.
He leaves behind his wife of 11 years, two young daughters, and an entire sheriff's office grieving his loss.
"Michael's my best friend, he was my partner….His soul was good and everybody that knew him knew that," said his wife, Stephanie.
"I love him so much and wish it was different," she said. "He loved our girls, he loved our girls so much. He was the best partner, I keep trying to remind myself that he's still here with us, that he'll still be here with our girls. I just want everyone to know that our family appreciates all of you and that I loved him so much.
"I don't want to say goodbye. I'm not ready. Eleven years was not long enough."
Magli was deploying stop sticks out into East Lake Road in Tarpon Springs on February 17 when the drunk driver lost control and crashed into Magli's cruiser in the median, trapping him underneath it.
"Some will say that Michael was in the wrong place at the wrong time. I say nonsense," said Sheriff Bob Gualtieri. "Deputy Michael J. Magli was in the right place at the right time, doing what cops do everyday in this country. Protecting others even if it means personal danger to themselves."
The service was held at Idlewild Baptist Church in Lutz.
Magli's uncle, Sal Gallo, called him "our little angel."
"Let me tell you something, I am never more proud of him as I am of him today, at this moment," he said. "I couldn't say how proud I am of my nephew. So rest in peace our little angel, our little prince. Rest in peace my little hero."
Immediately following the service, the Sheriff's Office will honor Magli with a 21-gun-salute, fly-over and a riderless horse ceremony. Then, a procession will follow to the private burial at Trinity Memorial Gardens.
Anyone wishing to honor Magli can also line the procession route to the private burial site on State Road 54 between the Suncoast Parkway and Community Drive no later than 12:30 p.m.
Gov. Ron DeSantis has ordered flags at half-staff in Pasco and Pinellas County to honor the fallen deputy today.
The public is also invited to leave messages of support for Magli's family at: pcsoweb.com/michaelmagli.
Donations can be made to the Deputy Michael J. Magli Memorial Fund. Those interested in donating are asked to visit any SunTrust banking location to contribute.
Checks can also be sent to the Pinellas County Sheriff's Office Fiscal Division made payable to the Memorial.
If you'd like to help out, please visit the PBA's Facebook page, https://www.facebook.com/suncoastpba/.
Here are Twitter links to organizations across the state and country sending out support: