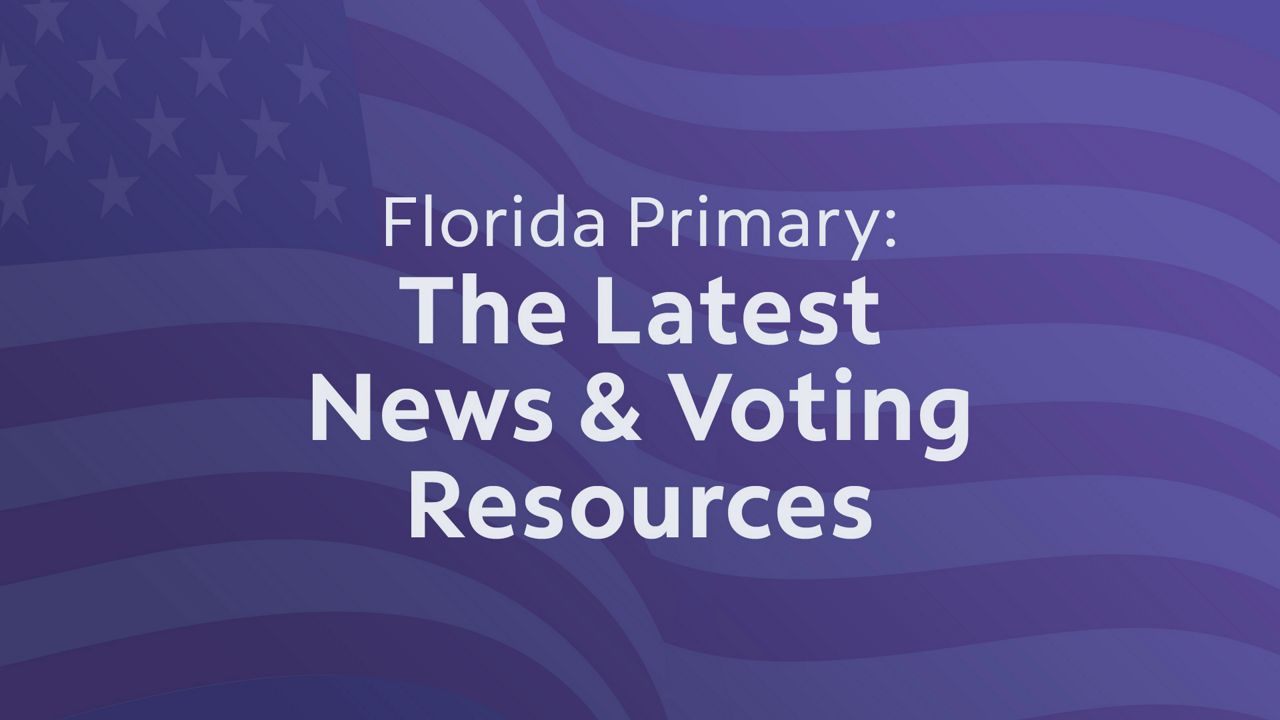 TAMPA, Fla. — With Florida's 2020 primary elections less than a week away, several races have moved to the forefront in terms of excitement, controversy, or game-changing potential.
Locally, here are five contests that cover that spread.
---
What You Need To Know
---
Congressional District 15
The contest between Republicans incumbent Ross Spano and challenger Scott Franklin for this Congressional district has been an ugly one for a while now. Both candidates have accused the other of, well, not being conservative enough, despite both of them leaning hard to the right and vocally supporting President Donald Trump.
Spano's reelection campaign has taken a hit due to allegations of illegal campaign contributions during his 2018 run, and Franklin has been accused of RINO who supports open borders—not exactly the kind of thing GOP voters want to hear. Franklin did score an endorsement, however, from perhaps Polk County's most influential (and undoubtedly most visible) Republican, Polk County Sheriff Grady Judd.
We'll have to wait to see which candidate the mudslinging ends up favoring, but one of these guys is definitely getting in. Congressional District 15 is traditionally a red district, and there's no evidence of that changing this time around.
Related Links:
Congressional District 13
Four Republicans are vying to the opportunity to turn this state seat back to red by ousting longtime St. Petersburg Democratic politician U.S. Rep. Charlie Crist, who wrested the position from the GOP in 2016.
Two of the four—George Buck and Anna Paulina Luna—are veterans. Buck, a former college professor, ran unsuccessfully for the seat in 2018. Amanda Makki is a former aide to U.S. Senator Lisa Murkowski. The fourth candidate, Sheila Griffin, is familiar to many voters in the district as a St. Petersburg city council candidate and president of the Suncoast Black Republican Club.
During a June forum at the Suncoast Tiger Bay Club, Griffin, Buck and Makki all expressed admiration for Donald Trump's presidency and declared that they'd love to campaign with him—which should endear them to his base, but it's unclear whether that will be enough to unseat Crist.
Hillsborough County Commission District 3
With Democrat Les Miller stepping down after 10 years of service, the race to succeed him in this County Commission seat—which covers East Tampa and extends north to the USF area—is a hot one. The lone Republican in the race is business owner Maura Cruz Lanz, who was born in the district in Ybor City. But the real competition for the seat, which has been occupied by African Americans for decades, is between five Democrats: Sky White, Rick Fernandez, Thomas Scott, Frank Reddick and Gwen Myers.
Only registered nurse White and attorney Fernandez showed up for a debate back in May; the issues discussed were familiar to a district that includes some of the poorest neighborhoods in Tampa: affordable housing, economic opportunity, improved mass transit. As the only white candidate, Fernandez might seem like an outlier in this contest, but his prominent role in opposing the Tampa Bay Express project on behalf of citizens of Tampa Heights and Seminole Heights a few years ago raised his profile considerably. It'll be interesting to see which of these candidates ends up facing off against Lanz in November's general election.
Hillsborough Clerk of the Court
This race is open to all, meaning non-party-affiliated voters registered in Hillsborough County get to make their voices heard. The Republican Party didn't field a candidate for this office—which has been held by Democrat Pat Frank since 2004—so it comes down to Democrats Kevin Beckner and Cindy Stuart.
Beckner is best known for his two terms on the Hillsborough County Commission, and his unabashedly progressive politics; he lost his first bid for this position to Frank in 2016. Stuart is a Hillsborough School District veteran with a long history of volunteer work. While Beckner might have more name recognition, this one could go either way.
State House of Representatives District 70
With sitting Democrat Rep. Wengay Newton opting not to seek another term in favor of running to represent Pinellas County's District 7, this seat is up for grabs. Dems Keisha Bell, Michelle Grimsley, Mark Oliver and Michele Rayner are vying for the spot, which represents south St. Pete along with parts of Hillsborough, Manatee and Sarasota counties. This is another open race, so non-party-affiliated voters in the district are encouraged to cast their ballots.
Bell, a native St. Pete attorney with a history of nonprofit work, was the runner-up to Newton for this seat in the 2018 election; her platform is heavy on affordable healthcare, the environment and public education. Bradenton's Grimsley has acted as legislative aide to Newton since '18, and evinces a similar outlook. Nonprofit CEO Oliver, also from St. Pete, turned heads by raising a lot of funds early in the race, and Pinellas' own Rayner wants to protect Amendment 4 and fight for housing equity as well as better public schools.
Republican Sharon Russ is also running for the seat (again), but in this heavily blue district a Democratic winner is pretty much a foregone conclusion.
CORRECTION: In the original version of this story, District 13 candidate Amanda Makki was referred to as a veteran. She is not, though she did at one time work at the Pentagon. Bay News 9 regrets the errror.