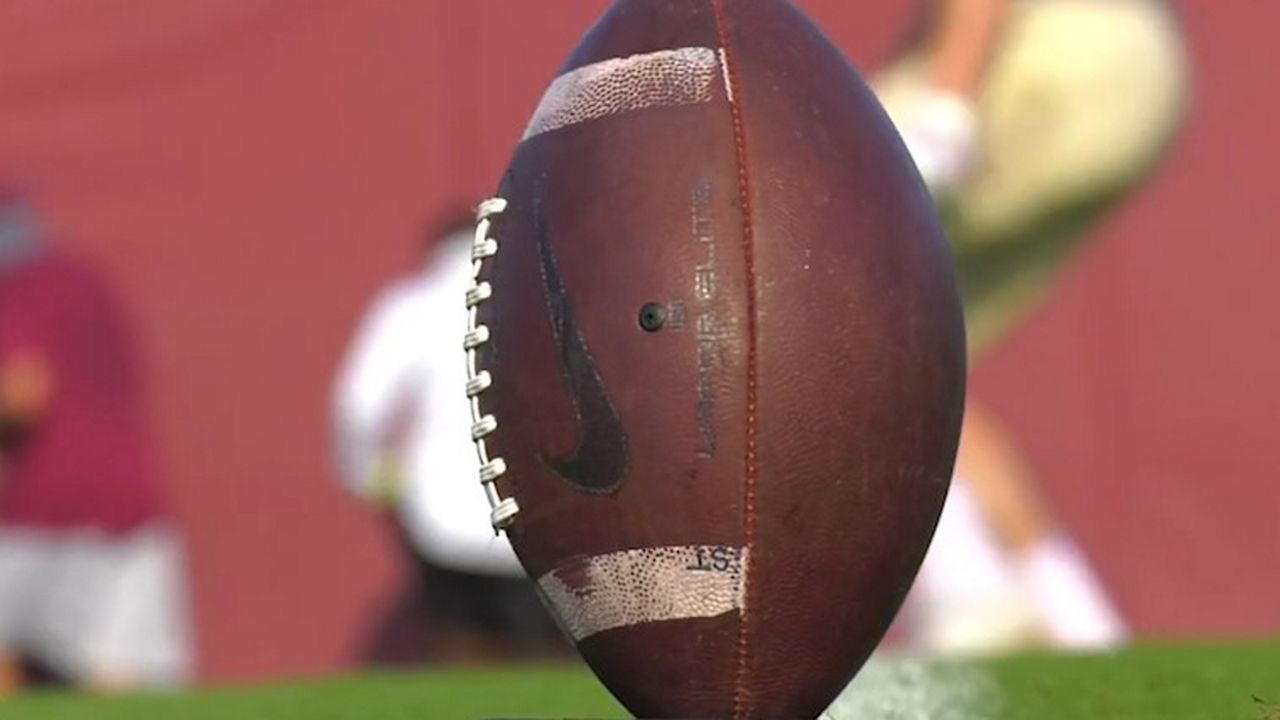 TAMPA, Fla. — When the whistle blows at practice everything seems normal. It's when the players and coaches go outside the lines that normal fades into the unknown of the COVID-19 pandemic.
Most college programs in Florida have close to or zero current positive COVID-19 cases.
---
What You Need To Know
SEC, ACC, & Big 12, along with American and C-USA to play college football this fall
College conferences to conduct heart health checks for all COVID-positive athletes
College players able to opt out of season without losing scholarship
Safety measures put in place for players & coaches include regular COVID testing
---
College conferences intent on playing this fall plan to conduct heart health checks for all COVID-positive athletes, including EKGs and cardiac MRIs.
College players can opt out of their season without fear of losing their scholarship and will retain a season of eligibility.
"We're all in this together," said FSU head coach Mike Norvell. "There's going to be good days, there's going to be bad days."
"There's going to be all kinds of things that are going to be different," said Miami head coach Manny Diaz.
As things currently stand: the Big Ten and the Pac-12 have postponed all fall sports to spring. The SEC, ACC, and Big 12 are moving forward – with the American and C-USA continuing on as well. Coaches believe in order to pull off college football in the fall – it starts with honesty.
"I think the players appreciate that," said USF head coach. "Whenever we talk about the key components to our program – number one is communication. That is where it starts with this open line of communication and sometimes its okay to tell them 'hey, we don't know yet.'"
"I've been very transparent with every player that I have talked to and with our entire team," Norvell said.
These programs have put in place safety protocols for players and coaches that include regular COVID testing. But, as with everything, following the guidelines is a personal choice.
"This is completely voluntary," said Norvell. Everything that we are doing, we fully respect everybody's decision whether they want to be here or do not want to be here."
"It's very important that all of the players have an opportunity to opt out if they don't feel comfortable playing," said Scott, who has had seven USF players opt out of this season.
Those who have chosen to play have shown their commitment to the process.
"When our guys came back, we, as a team, had zero positives when the guys got back," said Florida head coach Dan Mullen. "I do think the players do have a good understanding of it."
"They see that we are putting their safety first," said Diaz. "They understand that things are a little different, but like I said they have done their part and we have been very pleased with the way workouts have gone all summer."
Now it's a race to the start of the season next month. But it's also a waiting game. With each passing day, and each round of tests, the nation is watching to see if those football teams still standing can pull off the impossible.
"It's challenging for our country, it's challenging for everyone involved, but it takes great sacrifice to do that," said Norvell.