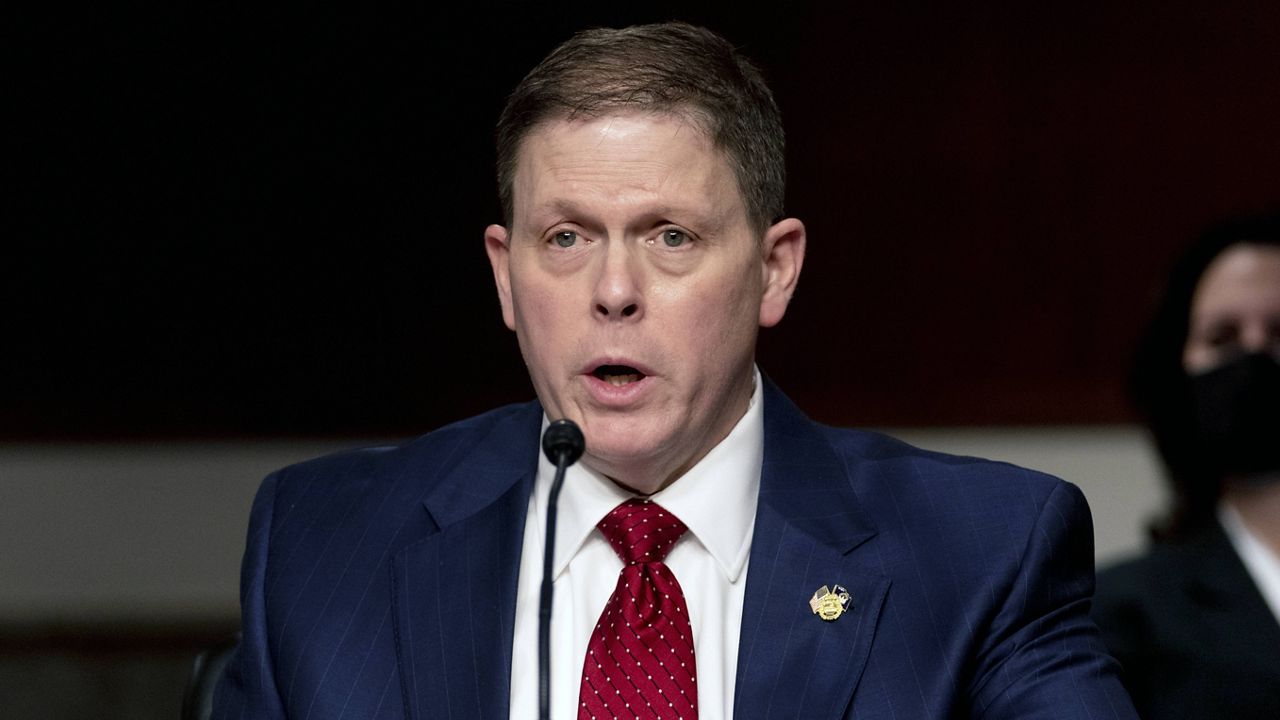 WASHINGTON — The former chief of U.S. Capitol Police testified before two Senate committees Tuesday that he only learned this week that his officers had received a report from an FBI field office in Virginia that forecast in detail the chances extremists could commit "war" in Washington on Jan. 6.
---
What You Need To Know
Congress is hearing from the former U.S. Capitol security officials for the first time about the massive law enforcement failures on Jan. 6
Former U.S. Capitol Police Chief Steven Sund cast blame for the department's failures during the Capitol riot on the intelligence community for not warning that such a violent episode was likely
Capitol Police Captain Carneysha Mendoza said "officers received a lot of gas exposure" and that she herself sustained "chemical burns to my face"
Also testifying are former Senate Sergeant-at-Arms Michael Stenger and former House Sergeant-at-Arms Paul Irving and Robert Contee, the acting chief of police for the Metropolitan Police Department
---
The head of the FBI's office in Washington has said that once he received the Jan. 5 warning from the Virginia office, the information was quickly shared with other law enforcement agencies through the joint terrorism task force, including the Capitol Police.
Former Capitol Police Chief Steven Sund testified Tuesday that an officer on the joint terrorism task force had received the FBI's memo and forwarded it to a sergeant working on intelligence for the Capitol Police. But Sund says the information was not put forward to any other supervisors.
Sund said he did see an intelligence report created within the Capitol Police force warning that Congress could be targeted on Jan. 6. That report warned that extremists were likely to attend and there were calls for people to travel to Washington armed.
Sund told lawmakers that, based on the information available to it, his department "properly planned for a mass demonstration with possible violence," but "what we got was a military-style coordinated assault on my officers and a violent takeover of the Capitol building."
Congress is hearing from the former U.S. Capitol security officials for the first time about the massive law enforcement failures on Jan. 6, the day the violent mob of Donald Trump loyalists laid siege to the building and interrupted the presidential electoral count.
In addition to blaming a breakdown in intelligence, the former security officials are pointing fingers at the Pentagon and each other for the disastrous failure to anticipate the violent intentions of the mob and defend the Capitol.
Sund called the riot "the worst attack on law enforcement and our democracy" that he has seen in his nearly 30 years in policing.
"I witnessed insurgents beating police officers with fists, pipes, sticks, bats, metal barricades and flagpoles," he said. "These criminals came prepared for war."
In addition to being unaware of the FBI intelligence, Sund said the Department of Homeland Security secretary did not issue any alerts that would have suggested the department should have been prepared for such a violent episode. Regardless, Capitol Police had all their officers activated, was sharing intelligence and information with other law enforcement agencies and took other measures, Sund said.
"No civilian law enforcement agency, to include the United States Capitol Police, is trained or equipped to repel an insurrection of thousands of individuals focused on breaching a building at all costs," Sund said.
Three of the four officials testifying Tuesday before the two Senate committees resigned under pressure immediately after the deadly attack, including Sund.
Much remains unknown about what happened before and during the assault, and lawmakers are aggressively questioning the former officials about what went wrong. How much did law enforcement agencies know about plans for violence that day, many of which were public? How did the agencies share that information with each other? And how could the Capitol Police have been so ill-prepared for a violent insurrection that was organized online, in plain sight?
The rioters easily smashed through security barriers on the outside of the Capitol, engaged in hand-to-hand combat with police officers, injuring dozens of them, and broke through multiple windows and doors, sending lawmakers fleeing from the House and Senate chambers and interrupting the certification of the 2020 presidential election. Five people died as a result of the violence, including a Capitol Police officer and a woman who was shot by police as she tried to break through the doors of the House chamber with lawmakers still inside.
Former Senate Sergeant-at-Arms Michael Stenger and former House Sergeant-at-Arms Paul Irving also spoke publicly for the first time since their resignations at the hearing, which is part of a joint investigation by the Senate Homeland Security and Governmental Affairs Committee and the Senate Rules Committee. They were joined by Robert Contee III, the acting chief of police for the Metropolitan Police Department, who sent additional officers to the scene after the rioting began.
The officials disagreed on why they didn't seek National Guard help before the Jan. 6 insurrection.
Sund testified that he requested the National Guard be called at 1:09 p.m. on Jan. 6. Irving, who was one of Sund's supervisors, said he didn't receive a request until after 2 p.m. Irving said he did not remember Sund making a request at 1:09.
Rioters breached the Capitol's west side just after 2 p.m.
Irving said he and other Capitol security leaders agreed before Jan. 6 that "the intelligence did not support the troops and collectively decided to let it go."
He disputed reports that he declined National Guard assistance leading up to Jan. 6 because it might have been bad optics.
"'Optics' as portrayed in the media played no role in my decisions about security," Irving said. "We did discuss whether the intelligence warranted having troops at the Capitol. The collective judgment at that time was no, the intelligence did not warrant that."
Contee testified that he was "stunned" over the delayed response to a request for National Guard help during the mob riot at the Capitol.
He told the joint Senate hearing Sund was "pleading" with Army officials to deploy Guard troops as the violence rapidly escalated Jan. 6.
Metropolitan Police officers had joined to help U.S. Capitol Police during the attack.
Contee said police officers "were out there literally fighting for their lives" but the officials on the call appeared to be going through a "check the boxes" exercise asking about the optics of stationing National Guard troops at the Capitol. Contee says there "was not an immediate response."
In heartbreaking testimony, which was previously unannounced, Capitol Police Captain Carneysha Mendoza started the hearing by recounting the horrific events of the riot, including saying that "officers received a lot of gas exposure" and that she herself sustained "chemical burns to my face," which, she says, "still have not healed."
"We could have had 10 times the amount of people working with us and I still believe the battle would have been just as devastating," Mendoza described, saying that she was activated early due to an extreme need for help while having lunch with her 10-year-old child.
"As an American and a veteran, it's sad to see us attacked by our fellow Americans," Mendoza said, adding that Jan. 6 was "by far the worst of the worst" day she's faced on duty.
"In my career I've been activated to work demonstrations with various controversial groups and have been called some of the worst names so many times that I'm pretty numb to it now," she added.
Mendoza worked in recovery efforts during the attack on the Pentagon after 9/11.
"There are certain lessons that always stuck with me after 9/11," she said. "One of those lessons is knowing the unthinkable is always possible — so be ready.
"I know some said the battle lasted three hours," she said, "But according to my Fitbit, I was in the exercise zone for 4 hours, and 9 minutes."
The hearing is expected to be the first of many examinations of what happened that day, coming almost seven weeks after the attack and over one week after the Senate voted to acquit former President Donald Trump of inciting the insurrection by telling his supporters to "fight like hell" to overturn his election defeat. Thousands of National Guard troops still surround the Capitol in a wide perimeter, cutting off streets and sidewalks that are normally full of cars, pedestrians and tourists.
Congress is also considering a bipartisan, independent commission to review the missteps, and multiple congressional committees have said they will look at different aspects of the siege. Federal law enforcement have arrested more than 230 people who were accused of being involved in the attack, and President Joe Biden's nominee for attorney general, Judge Merrick Garland, said in his confirmation hearing Monday that investigating the riots would be a top priority.
Congress needs to know, quickly, how failed security preparations and delays in the response led to "a mad, angry mob invading this temple of our democracy," Senate Rules Committee Chairwoman Amy Klobuchar said in an interview with The Associated Press before the hearing.