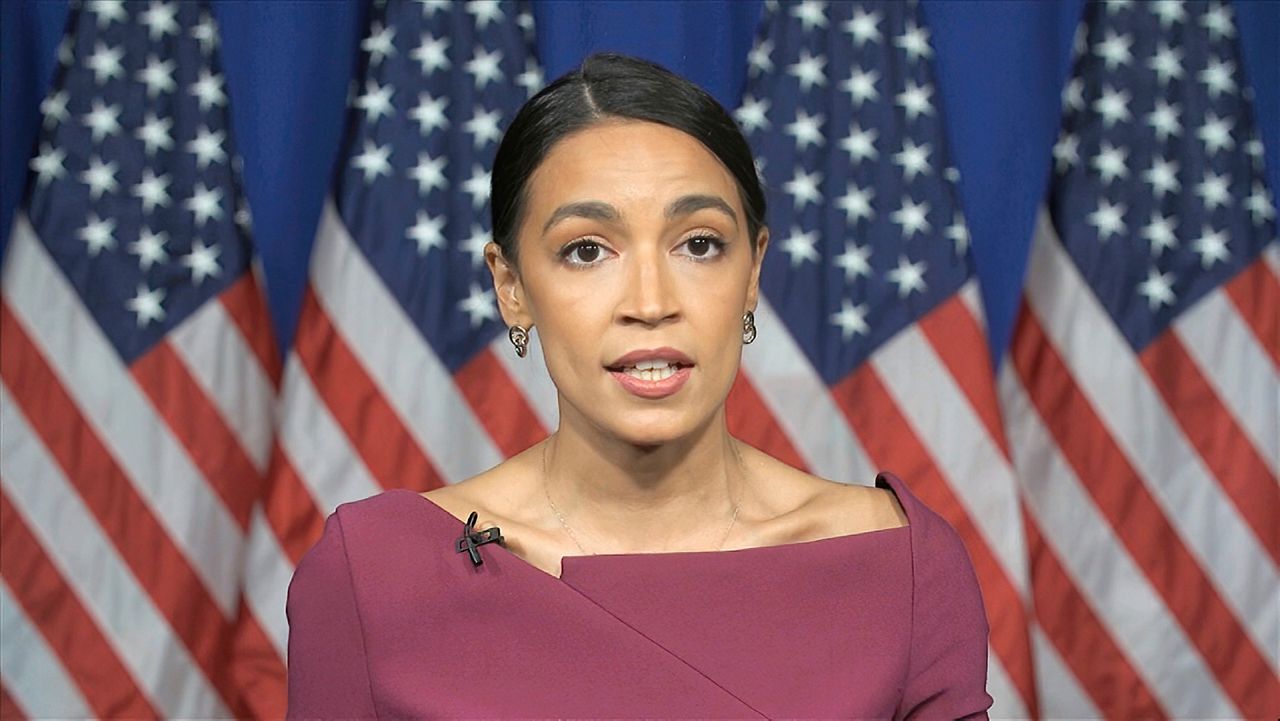 One is a 76-year old former secretary of state and presidential also-ran from Boston.
The other is a 30-year-old congresswoman and social media phenomenon from the Bronx.
One got a primetime spot and three minutes minutes of airtime. The other a less prime spot and about 90 seconds.
If you watched last night, you know that you saw John Kerry on your screen far more than Alexandria Ocasio-Cortez. Ditto with Colin Powell, Secretary of State to President George W. Bush. And ditto with a tribute to John McCain that repeatedly praised Biden's bipartisanship.
Ocasio-Cortez, already a bonafide star in the Democratic party, nominated this year's runner-up, Bernie Sanders.
"At a time where millions of people in the United States are looking for deep, systemic solutions to our crises of mass evictions, unemployment, a lack of health care," she said in what appeared to be a pre-recorded video, "I hereby second the nomination of Senator Bernard Sanders of Vermont for president of the United States of America."
With many people confused why she didn't mention Biden, Ocasio-Cortez later tweeted that under party rules, candidates crossing a certain threshold require roll calls and nominations but that "I extend my deepest congratulations to @JoeBiden – let's go win in November"
Kerry was fulsome in his support. And he may have had the evening's most memorable line.
"When this president goes overseas, it isn't a goodwill mission, it's a blooper reel," he said of Donald Trump.
You may have an opinion on the disparities: a sign that Joe Biden is prioritizing some things — and some people — over others in his bid for the White House.
It didn't sit well in some quarters.
"It's not unusual that the person giving the nominating speech for the nominee gets more time," Ed Espinoza, Executive Director of the group Progress Texas wrote in an email.
"However, names like Alexandria Ocasio-Cortez and even [Texas Congressman] Julian Castro are bigger stars than John Kerry, and these voices represent an entire generation of new activists, working people, and people of color — they are worth more than just a minute of the DNC's time."
There is only so much time in any convention; this year, organizers truncated speeches to a minute or two — a nod perhaps to our dwindling attention spans, especially when we watch big events on small screens.
And other progressives and young politicians from many backgrounds are accounting for prominent speaking spots. Sen. Bernie Sanders spoke second from last Monday, just before former First Lady Michelle Obama.
Tuesday, 17 people delivered a joint keynote address that traditionally goes to a single political figure, often early in their careers, including Barack Obama in 2004, when John Kerry was nominated. This year, they included Stacey Abrams, who almost became Georgia's governor in 2018; Mari Manoogian, 27, a state representative from Michigan; and Rep. Conor Lamb, a Democrat representing a district northwest of Pittsburgh that Donald Trump won by about 20 points in 2016.
Biden is polling competitively in Georgia, which last voted for a Democrat in 1992. He hopes to win back Michigan and Pennsylvania, where Trump narrowly won.
That AOC didn't get more time reflects the priorities of the party as it is, under its leadership. And in January, AOC famously mused in an interview with New York Magazine: "In any other country, Joe Biden and I would not be in the same party, but in America, we are."
Joe Biden and Democrats are clearly looking for others to assume the party's next generation of leaders. He's a traditional Democratic moderate, although this year is running with what could be called an extremely progressive agenda. And, in a twist, Kerry and Ocasio-Cortez together played a key role in crafting a pivotal part of it: His climate change platform.
Kerry and Ocasio-Cortez chaired a task force on climate change — one of several aimed at bridging wings of the parties, and avoiding the acrimony seen as contributing to Hillary Clinton's 2016 loss.
In Congress, Ocasio-Cortez was a sponsor of the Green New Deal, a resolution calling for a sprawling clean energy program that included other key elements of the progressive plank — it also speaks of job guarantees and robust unionization rights.
The agenda never passed Congress — and was famously mocked by House Speaker Nancy Pelosi — but it ended up the "framework" for Biden's environmental agenda. He says on his first day in office he would sign measures putting the U.S. on track for an entirely clean energy economy and net-zero emissions by 2050. If not swooning, environmental groups are pleased when faced with the alternative in President Trump.
Climate change is an increasingly galvanizing issue, particularly among younger voters. Polling finds that recently more Americans began concluding the threat is understated versus overstated.
Biden seems to have locked up John Kerry voters; will distaste for President Trump be enough to lure young Americans to the polls for Biden?
Will Alexandria Ocasio Cortez use her formidable following to fire up her supporters for a candidate she didn't want?
Biden could use her help. On Instagram alone, she has 6.1 million followers, to Biden's 3.4 million.