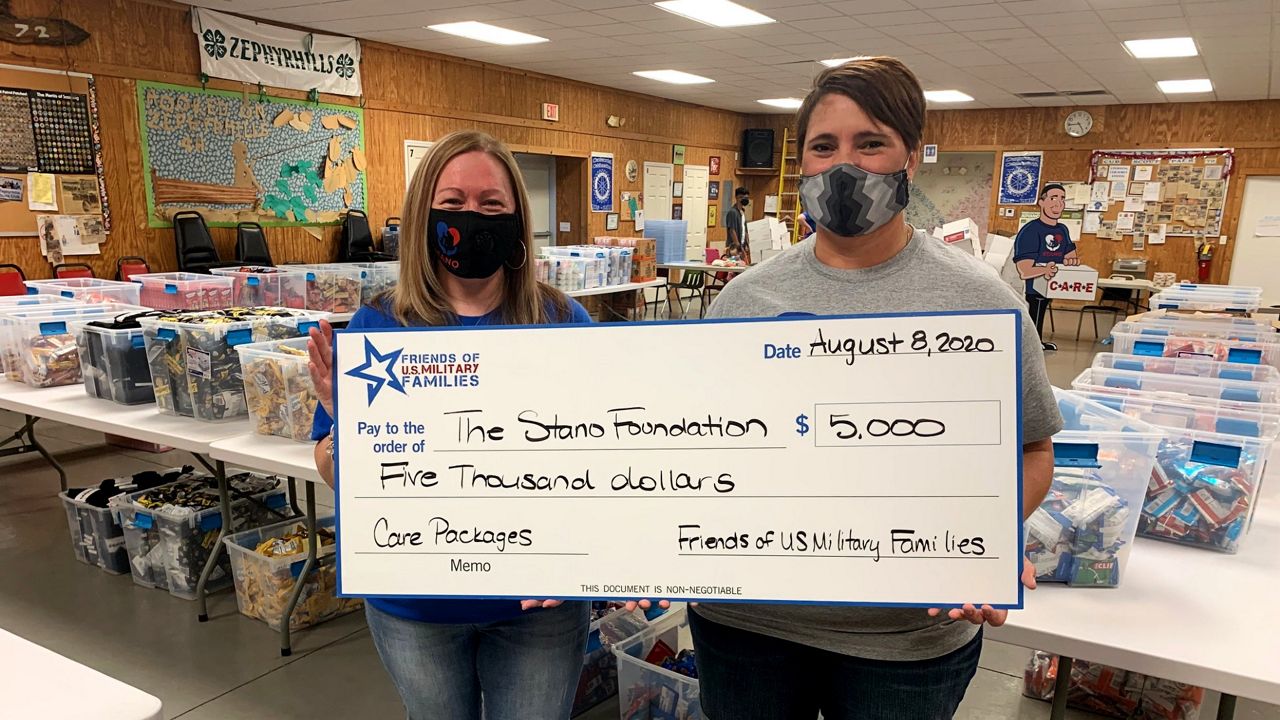 PASCO COUNTY, Fla. — The pandemic may be slowing them down, but the Stano Foundation still finds a way.
---
What You Need To Know
Stano Foundation making care packages for troops overseas
Due to pandemic, procedures to create packages have changed
Get more coronavirus coverage
---
Paula Stano started the foundation to provide care packages for troops serving overseas.
On Saturday, volunteers gathered – socially distanced and in masks – to put together 250 packages for troops serving in Iraq and Afghanistan.
"I miss not being able to do this as often as we were," Stano said.
Packing events like have been more difficult to pull off, thanks to the pandemic. The foundation also can't hold its usual fundraisers. Yet soldiers are still in need.
Hanging out with the @StanoFoundation today! Even during the pandemic, they're still finding ways to put together care packages for troops overseas. @BN9 #BN9Covid19 pic.twitter.com/fALDF7dNyZ

— Tim Wronka (@TimWronka) August 8, 2020
"Our requests haven't slowed. We just keep getting them and getting them," Stano said.
So they are doing what they can to make it work.
In fact, on Saturday, the foundation received $5,000 from another nonprofit, the "Friends of U.S. Military Families." It's to help cover the expensive shipping overseas.
"This cause hits home for us. We've been there needing those packages. We know the excitement we get from them. It was a no brainer," said Secretary Amber Morris, who presented the check.
"When Amber told us she was going to give the big donation, it was such a huge help. It's really just a blessing," Stano said.
The care packages are filled with all sorts of things, like snacks, socks, games, and things to do. Many troops on bases are stuck inside due to COVID-19, so the packages are needed more now than ever.
Of course, packing takes a bit longer these days. Less people are allowed to be together and everyone is in a mask. But to the volunteers, it's worth it to help those serving.
"It makes me feel normal. It really does," Stano said. "I love giving back. I love making sure they have what they need."
The Stano Foundation aims to send 250 care packages a quarter. If you'd like to help out all, visit stano.org.