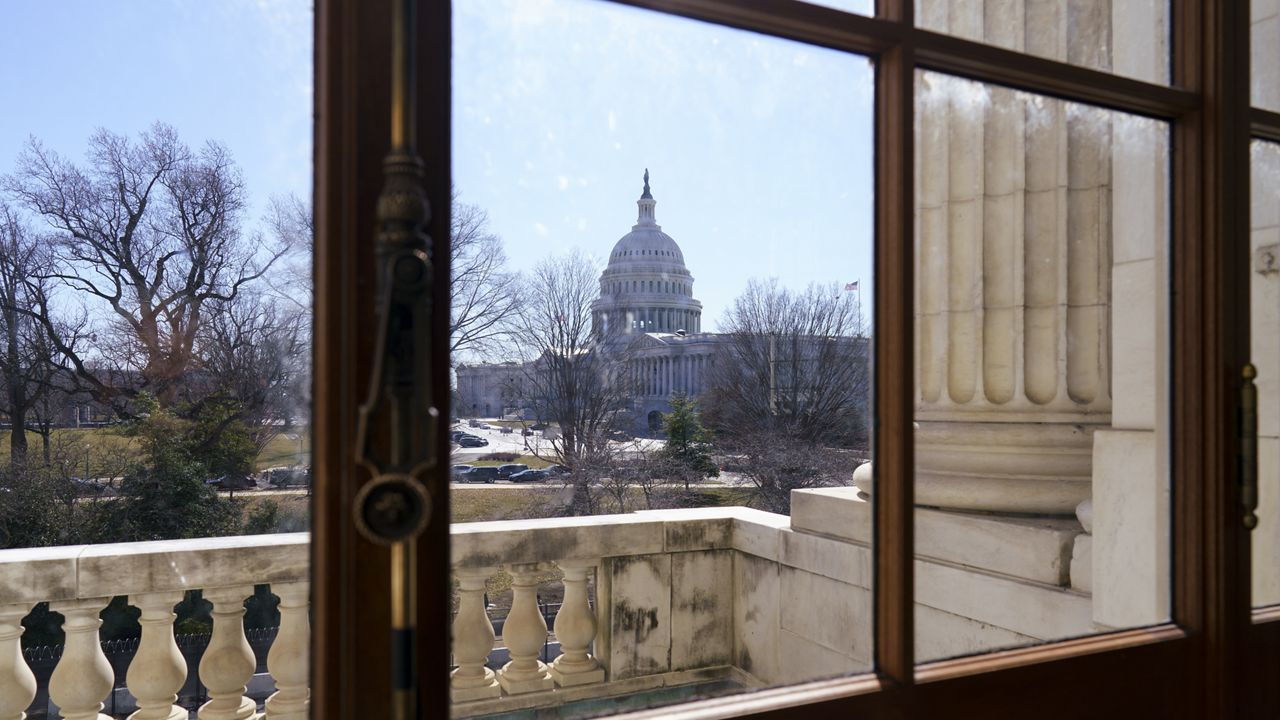 Senators worked through the night Friday into Saturday morning voting on amendments to the $1.9 trillion COVID-19 relief bill after Senate Democratic leadership and moderate Sen. Joe Manchin (D-WV) agreed to a deal on emergency unemployment benefits, finally allowing the $1.9 trillion COVID-19 bill to move forward.
"We have reached a compromise that enables the economy to rebound quickly while also protecting those receiving unemployment benefits from being hit with unexpected tax bill next year," Sen. Manchin announced in a statement late Friday.
The deal also provides $10,200 in tax relief for unemployed workers with households making less than $150,000 annually.
"The President has made it clear we will have enough vaccines for every American by the end of May and I am confident the economic recovery will follow," Manchin said.
"The President supports the compromise agreement, and is grateful to all the Senators who worked so hard to reach this outcome," White House press secretary Jen Psaki said in a statement after the deal was announced. "It extends supplemental unemployment benefit into September, and helps the vast majority of unemployment insurance recipients avoid unanticipated tax bills."
"Most importantly, this agreement allows us to move forward on the urgently needed American Rescue Plan, with $1,400 relief checks, funding we need to finish the vaccine rollout, open our schools, help those suffering from the pandemic, and more," Psaki added.
The overall bill, President Joe Biden's top legislative priority of his early presidency, is aimed at battling the killer pandemic and nursing the staggered economy back to health. The measure would provide direct payments of up to $1,400 to most Americans and money for COVID-19 vaccines and testing, aid to state and local governments, help for schools and the airline industry, as well as subsidies for health insurance.
With 10 million fewer jobs since the pandemic struck a year ago, aiding unemployed Americans is a top Democratic priority. But it's also an issue that drove a divide between progressives seeking to help jobless constituents cope with the bleak economy and Manchin and other moderates who have wanted to trim some of the bill's costs.
Shortly before midnight, the Senate began to take up a variety of amendments in rapid-fire fashion. The votes were mostly on Republican proposals virtually certain to fail but designed to force Democrats into politically awkward votes. It was unclear how long into the weekend the "vote-a-rama" would last.
By daybreak Saturday, senators had worked through more than a dozen amendments without substantially changing the overall package.
The amendments included one from Sen. Susan Collins (R-ME) to replace the bill with a $650 billion version, a measure from Sen. Tim Scott (R-SC) asking for more transparency on nursing home investigations related to COVID deaths, an amendment that tied school reopening targets to funding from Sen. Marco Rubio (R-FL), and a proposal from Democratic Sen. Jon Tester of Montana that would have President Biden approve the Keystone XL pipeline.
All of these amendments failed. Sen. Tester's Keystone XL pipeline amendment got 51 votes, but under the filibuster rules, amendments need 60 to pass.
Republicans are without one member of their caucus during the vote-a-rama period, Sen. Dan Sullivan of Alaska, who left D.C. for Alaska due to the passing of his father-in-law.
"Due to the recent passing of his father-in-law, Senator Sullivan had to depart on a Friday afternoon flight to make it back to Fairbanks, Alaska in time for the funeral," his office said in a statement. "Senator Sullivan intended to vote against final passage of the bill and made his opposition clear in a statement on Thursday, after his vote against the motion to proceed with consideration of the bill."
Sullivan voted against Sen. Bernie Sanders' $15 minimum wage amendment Friday before leaving the Capitol.
On the Senate floor Friday, Senate Budget Committee Chairman Sanders (I-VT) introduced an amendment to the COVID-19 relief bill that would reintroduce the $15 minimum wage, which he said has 38 Senate co-sponsors.
"I think the parliamentarian was dead wrong," he said of the ruling that $15 minimum wage could not be included in the COVID-19 relief bill due to the Senate's arcane budget rules.
"It is an absurd process that we allow an unelected staffer, somebody who works for the Senate not elected by anybody, to make a decision as to whether 30 million Americans get a pay raise or not," Sanders added. "I don't care how the parliamentarian rules, no parliamentarian should have that power."
"If people here want to vote against raising the minimum wage, you have that right," Sanders went on to say. "If you want to vote for it, and I hope you do, you have that right. But we should not shovel off that responsibility to an unelected staffer. That's wrong."
The amendment was defeated soundly after a number of Democrats and moderate Republicans defeated the measure – notable no votes included both of Maine's senators, Angus King (I-ME) and Susan Collins (R-ME), Lisa Murkowski (R-AK), Jon Tester (D-MT), Kyrsten Sinema (D-AZ), Jeanne Shaheen (D-NH), and both of Delaware's Democratic Sens. Tom Carper and Chris Coons.
Democrats, including the president, pledged to continue fighting for a $15 minimum wage.
"We agree with Sen. Sanders and the President is going to be standing right alongside him fighting for an increase in the minimum wage to $15 an hour," Press Sec. Jen Psaki said at Friday's press briefing.
Shortly after the vote, proceedings stalled.
Democrats debated as a deal they thought they'd reached between progressives and moderates over unemployment benefits threatened to crumble.
Republican senators – in accounts verified by a lobbyist – said Sen. Manchin was no longer backing a Democratic proposal for a fresh round of emergency jobless benefits. Instead Manchin, probably the Senate's most conservative Democrat and a potential deal breaker in the 50-50 chamber, was said to prefer a less-generous GOP alternative.
But a deal was reached late Friday night, allowing the Senate's work to continue – and setting up the longest vote in its history, as the minimum wage vote was not yet gaveled out before proceedings fell apart Friday. In all, the vote was open for 11 hours and 50 minutes yesterday, despite sitting at a 42-58 vote for hours.
Democrats were grateful to get back to work on a bill of critical importance to their caucus, and to the American people.
Sanders, speaking on the floor of the Senate, called the COVID-19 relief bill "the most consequential and significant legislation for working families that Congress has debated for many, many decades."
"This is a bill which will answer a profound question," Sanders said. "Are we living in a democratic society where the US Congress will respond to the needs of working families rather than just the wealthy and large corporations and their lobbyists? That's what today is about."
In a move to appease moderates, President Biden and Senate Democrats agreed to tighten income limits for stimulus checks, phasing out payments for people with higher-incomes after pushback for more "targeted" spending.
Originally, individuals earning up to $75,000 – and couples up to $150,000 – would get $1,400 checks per person. The version the House approved over the weekend would gradually phase down those amounts and disappear completely for individuals making $100,000 and couples earning $200,000. But under Wednesday's agreement, those checks would end for individuals making $80,000 and couples earning $160,000.
"My hope is they don't screw around with it too much," Rep. Jim McGovern (D-MA) said of the Senate in an interview. "If they do, there could be some problems."
Congress wants to send the bill to Biden before March 14, when a previous round of emergency benefits for people tossed out of work by the pandemic expires.
The new provisions offered items appealing to all manner of Democrats. Progressives got money boosting feeding programs, federal subsidies for health care for workers who lose jobs, tax-free student loans, and money for public broadcasting and consumer protection investigations.
Moderates won funds for rural health care, language assuring minimum amounts of money for smaller states and a prohibition on states receiving aid using the windfalls to cut taxes. And for everyone, there was money for infrastructure, cultural venues, start-up companies and afterschool programs.
Democrats already dropped two transportation projects as examples of pork that would politically benefit Democrats leaders Chuck Schumer and Nancy Pelosi.
Drew Hammill, a spokesperson for House Speaker Nancy Pelosi, said the Senate Parliamentarian has ruled that a subway extension through downtown San Jose did not meet requirements for inclusion in the bill because it is part of a pilot project. The project was set to receive about $141 million under the bill that passed in the House. The parliamentarians rulings are generally respected by the Senate.
Also, the $1.5 million in funding to maintain and operate a bridge connecting Canada and the United States in upstate New York, Schumer's home state, has been removed by Senate drafters of the bill.
The projects represent a tiny fraction of the overall bill's cost, but they became popular talking points for Republicans lining up in opposition to the measure, which they says is bloated and unfocused. The subway extension was described as "Speaker Pelosi's pork subway project" even though it is located 50 miles away from her district.
"Now that the two projects that Republicans misled the public about in the House bill have been removed, it is unclear how Republicans will justify their opposition to the American Rescue Plan, which has strong bipartisan support among the public," Hammill said.
The economic recovery began to stall late last year as the virus surged, causing a shortfall in hiring in recent months. Employers added just 49,000 jobs in January and cut 227,000 jobs in December. Economists estimate that the February employment report being released Friday will show gains of 175,000, not nearly enough to swiftly recover the nearly 10 million jobs lost to the pandemic-induced recession.
The nonpartisan Congressional Budget Office estimates economic growth will exceed 4% this year without Biden's rescue package. Republicans cite that as evidence the economy is pointed upward, but Democrats say a strong economic stimulus is still needed to prevent a relapse.
"It's a crisis that is still very much with us, and it is deadly, deadly serious," Schumer said.
The Associated Press contributed to this report.