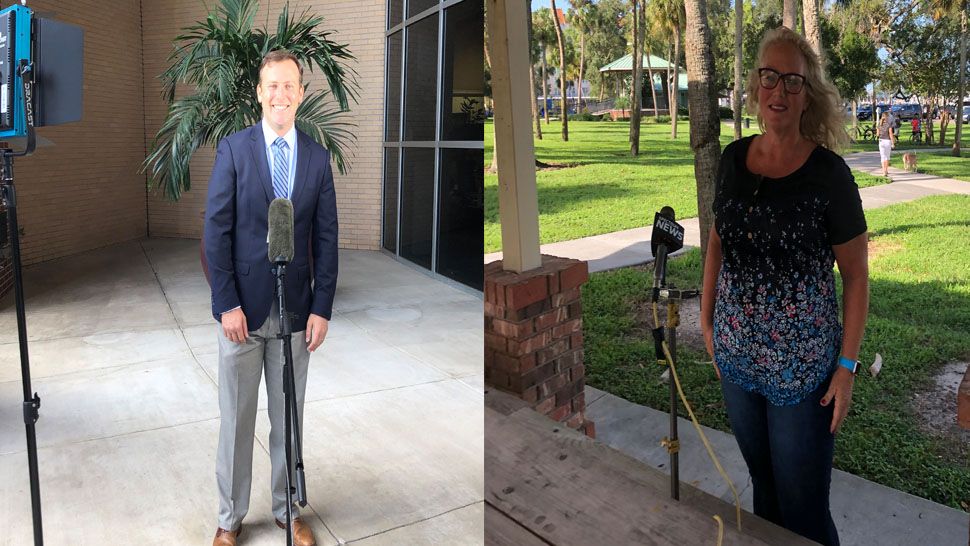 PINELLAS COUNTY, Fla. — Chris Sprowls is just weeks away from officially becoming one of the most powerful men in Florida government. But before he is sworn in as the next Speaker of the House in the Florida Legislature, he has to win reelection to his North Pinellas County seat that he has held since 2014.
---
What You Need To Know
---
The 36-year-old Palm Harbor Republican is facing first-time Democratic candidate Kelly Johnson in the House District 65 race on Nov. 3 (the district includes Tarpon Springs, Dunedin, Largo and Clearwater).
"Right now we're in the midst of a pandemic. Coming out of that, the most important thing is going to be getting our citizens back to work," Sprowls said when asked by Spectrum Bay News 9 about what his biggest priorities are when he officially takes over his leadership role.
"That means that we're going to have to make sure that there are opportunities in jobs for them. It's going to mean that we're going to have to rethink workforce education, to move people quicker and easier throughout the workforce so that they can change jobs and find a job that's right for their family."
Sprowls joined Gov. Ron DeSantis, Senate president-designate Wilton Simpson and a host of law enforcement officials in Polk County on Monday to announce a controversial set of proposals that would crack down on people who attend protests that turn violent.
The proposed legislation – called the Combating Violence, Disorder and Looting and Law Enforcement Protection Act – would impose criminal penalties for actions such as blocking roadways, toppling monuments and harassing restaurant patrons – incidents that have happened around this nation this summer following the protests for police accountability and racial equality in the aftermath of the death of George Floyd – though there have been very few such incidents reported in Florida.
Democrats have blasted the proposals, but Sprowls, a former prosecutor, says the legislation is needed.
"The reason that government exists is because people want to be protected," he says. "If they're going to engage with their government, they want their neighborhoods to be safe. They want their children to be safe. They want their businesses and their property to be safe. What Gov. DeSantis and myself and Senate President-Designate Simpson said the other day is that's exactly what we intend to give the people of Florida."
Johnson says she was inspired to run for office this year after she became an activist of sorts, leading protests in the Bay area calling on lawmakers to fix the state's broken-down unemployment website.
Like hundreds of thousands of Floridians, Johnson lost her job (actually two jobs – one as a restaurant manager and the other as a personal trainer) due to her employers having to shut down because of the coronavirus.
She says DeSantis' proposed legislation that would go after "disorderly" demonstrators will have a chilling effect on peaceful protesters.
"It doesn't take away our rights, but it changes them," she says.
Some observers of Tallahassee politics believe the measure dims the potential for any substantive criminal justice reform measures being passed in the upcoming legislative session.
Sprowls disagrees. He's the proud sponsor of what was hailed in the spring of 2018 as a bill that would make Florida's criminal justice system the most transparent in the country. The legislation calls for listing specific information about every misdemeanor and felony case in the state in one centralized database. Yet the online portal that would house that information still isn't functioning in the fall of 2020.
Sprowls says he's working with the Florida Dept. of Law Enforcement on a weekly basis to monitor the portal's progress and expects it to be up and running before the 2021 legislative session begins next March.
"We're doing something that has never been done before," he says. "What I would tell you is that the public defenders, the state attorneys, the sheriffs – what they've done is they've compiled more criminal justice data in one place than any other state in America."
Sprowls says he filed the bill because he believes in accountability and transparency, and therefore when there are changes and/or reforms with the criminal justice system, "it should be the right ones."
Johnson is a registered Democrat who says she has mostly voted for Republicans in recent presidential elections. She admits that when she decided that she would enter the political arena, she had no idea that the man she would be running against was the incoming speaker-designate.
"It's going to be David vs. Goliath," she told herself after realizing she would be running against Sprowls.
Although she certainly had her battles with the unemployment system, Johnson says that no state in the country could have been prepared for the massive request for benefits which took place once the coronavirus shut down so much of the economy.
"COVID-19 has been an absolute disaster," she says. "I think that the last thing that we need to do to progress forward is to blame. I think we need to have accountability, absolutely. But we need to move forward."
Johnson says there's too much blame that goes on in politics. Too much attacking members of the other party vs. trying to find solutions to help out the citizenry.
The Dunedin based mother of eight says she wants to serve in the Legislature because she has a lifetime of experience serving other people.
On the issues, she supports raising the minimum wage and creating policies that will help families get out of poverty. She also supports expanding Medicaid and has a lot of concerns about the environment.
When asked why people should vote for her vs. Sprowls, she says it's because she's "not owned by one side."
"That's obvious if you look at my campaign contributions," she adds.
Johnson has raised just a little more than $11,000 in the race. Sprowls has raised more than $240,000 (He also chairs a political committee that has more than $3 million cash-on-hand).
The House District 65 is made of 41 percent Republicans, 30 percent Democrats and 28 percent Non-Party-Affiliated (NPA) voters.