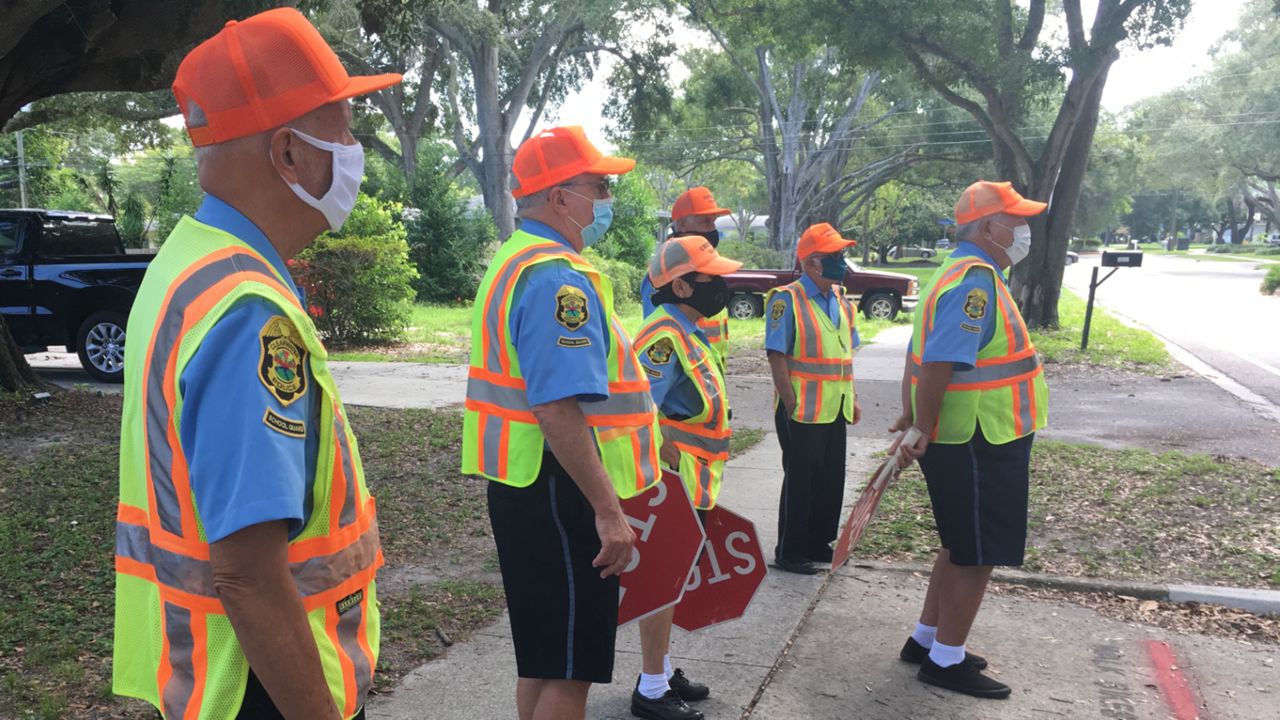 CLEARWATER, Fla. — Training took place this week for the Clearwater Police Department's school crossing guard program — complete with COVID-19 precautions.
---
What You Need To Know
Markings at crosswalks will help Clearwater students social distance
Crossing guards will wear masks with whistles held inside to direct students
Officials say crossing guards will be ready to report to duty whenever students head back to class
---
"It's been a little challenging," said Norman Runkles, schools crossing guard coordinator for the city of Clearwater. "Luckily for me, I had a lot of time to think about it and figure out what I needed to do to make sure that everybody stayed safe."
One of those changes is a new marking at crosswalks meant to help with social distancing. Students will be instructed to stand behind orange dots have been painted six feet from the yellow lines near the curb where crossing guards will stand.
"We have to be spot-on because now we're asking children to walk three feet further in the same time frame at an intersection that's controlled by lights and signals," said Runkles.
Crossing guards will also wear masks with their whistles held inside.
"I want families to know, and I want the children to know, that we've taken the precautions necessary to make this a safe school year and a safe crossing," said Runkles.
John Huckno, one of the program's trainers and a crossing guard himself, said the precautions are just part of the changes trainees have had to adapt to this year.
"We don't know how many kids are actually going to be going to school, how many are going to be home schooled, and how many are going to be on virtual," he said.
Still, he said he's looking forward to the start of the new year.
"We always have so much fun with them, especially the elementary kids," Huckno said. "Usually, by the time the first month is over, we know their whole family history, what's happened for the summer."
A spokesperson said Clearwater PD is always looking for new crossing guards. Anyone interested can contact the police department or Norman Runkles at (727) 224-7192.