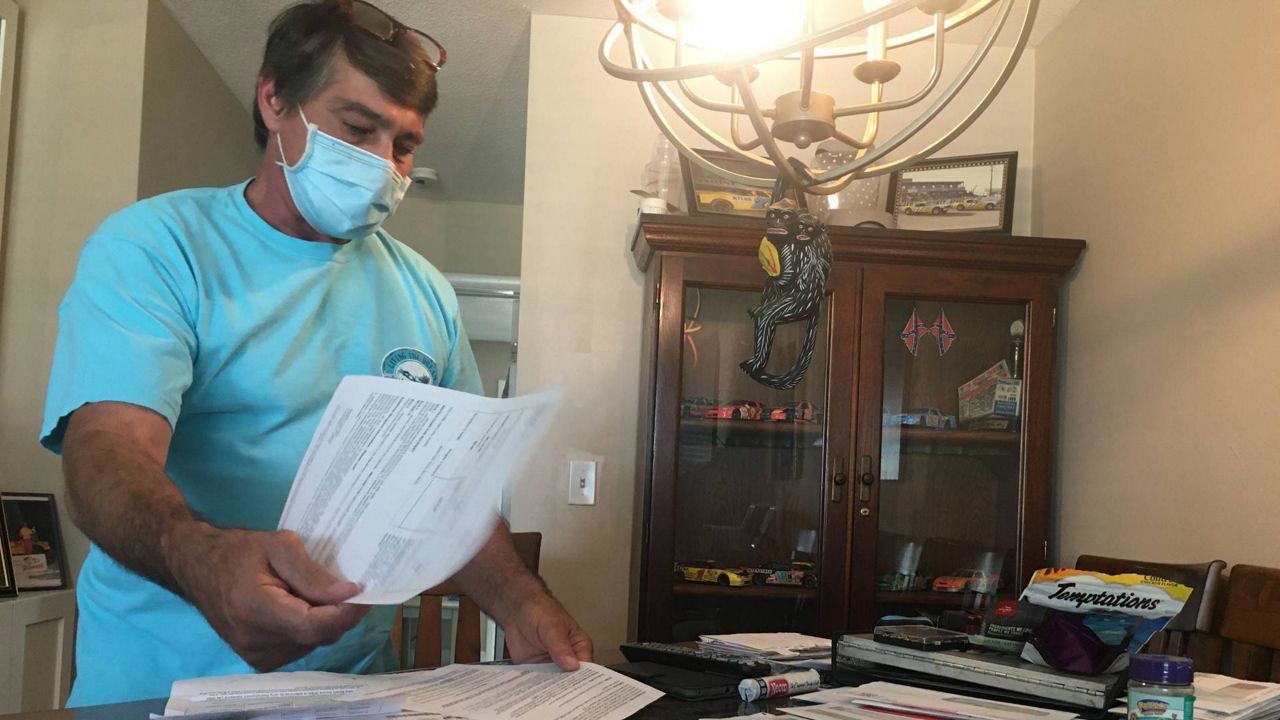 CLEARWATER, Fla. — A Clearwater man said his Pandemic Emergency Unemployment Compensation benefits were approved by the Department of Economic Opportunity but he hasn't received a payment for nearly two months.
"They told me all of my ducks are in a row," said Doug Syphers, 56. "Just keep claiming your weeks and wait for your money."
Syphers said he was laid-off from his construction job last July and initially didn't have any problems collecting unemployment. Syphers said he was able to pay his bills between the unemployment payments and his savings.
Unfortunately, these days the Clearwater man's getting desperate because his savings have run out and the DEO hasn't sent him a single payment from the PEUC extension that kicked in this year.
"I'm eating ramen noodles, you know what I'm saying? I shut lights off. I'm not sleeping well at night," said Syphers.
"I'm worried about how am I going to pay my bills."
Syphers said the "be patient" response he's getting from the DEO will not work with his debt collectors.
"What do I tell my electric company? What do I tell my bill collectors? Be patient until my money comes in from unemployment," he said. "They don't want to hear that story nor do I want to hear that story."​​
For privacy reasons, the DEO can't talk about Sypher's case but a spokesman said a reemployment assistance team will take a closer look.
We asked unemployment advocate Kelly Johnson to weigh-in on Sypher's case. Johnson has helped thousands of Floridians navigate the DEO's broken system through her facebook page "action group for COVID-19 unemployment and reform (Florida)."
"When I looked into his case there was absolutely no reason why this gentleman should not be receiving payments currently. He has done his job," she said. "He has filled out every two weeks his claim. There's an adjudication determination on this gentleman's case that was approved." ​
Johnson said if the DEO tells you to be patient, claimants should do the opposite.
"If they are on hold and they call the DEO and they tell you to 'be patient' that's absolutely false," she said. "You need to be your own pushy advocate for your case. The DEO is so overwhelmed with work. They were never prepared for this type of workload."
Johnson said many claimants were put on hold when the DEO transferred to the new PEUC program due to glitches and a redetermination of eligibility.
"A lot of legitimate claims are being held up and kind of buried in this new influx of fraudulent cases and cases where the identities have been stolen," she said. "Unfortunately, we have a significant amount of claimants who that have not been getting paid anything in the new year and it's been quite an issue."​
Spectrum Bay News 9 asked the DEO last month for the total number of claimants on hold or missing back payments but the agency won't provide those numbers stating they will follow-up as soon as they can.