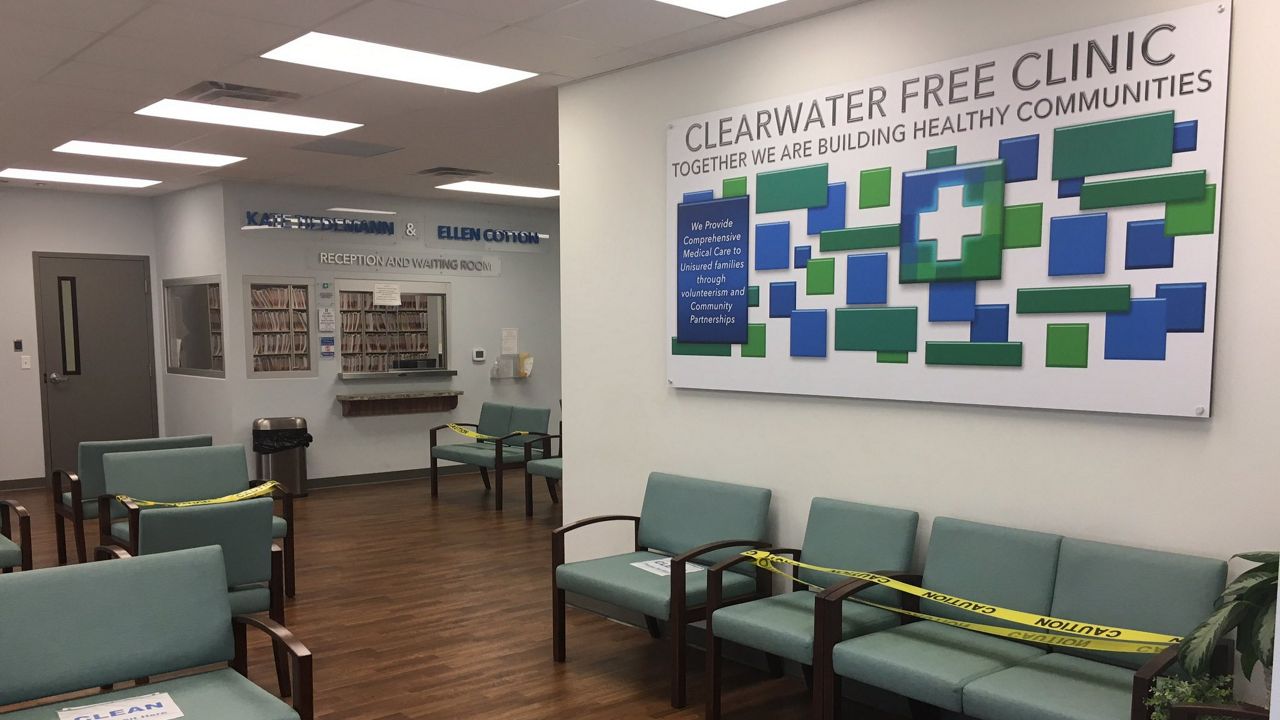 CLEARWATER, Fla. – The Clearwater Free Clinic is working to get the word out about its weekly pediatric program. It was shut down from March to July due to coronavirus concerns, and patient volume hasn't rebounded.
---
What You Need To Know
Clearwater Free Clinic has provided health care to low income and uninsured residents in Pinellas County since 1977.
The clinic's pediatric program has seen a steep drop in patient volume after a temporary shut down earlier this year
Volunteers and staff are working to get the word out about what they say is a valuable community resource.
---
"I just hope our volume will increase. I'd like to see more kids," said Dr. Gregory Garvin, an osteopathic pediatrician who volunteers at the clinic.
The program takes place on Wednesdays from 9 a.m.-12 p.m. It's open and free of charge to children 18 years old and younger whose families qualify financially. Garvin said, before the pandemic, he would see as many as ten pediatric patients a day during the busy time of year right before school. During the rest of the year, he said up to four young patients a day were served by the program.
"After that period of March to July, we started to see a drop in our numbers," Garvin said. This Wednesday, he said he saw no pediatric patients.
Garvin and those who work at the clinic said this is troubling since they've seen the community demand for the services they provide among their adult patients.
"I've seen the impact that it makes. I've seen the changes in our patients. I know what we're able to provide. It's unreal," said Corey Shapiro, a family nurse practitioner with the clinic.
The non-profit has provided medical care to low income and uninsured residents of Pinellas County since 1977. Shapiro said it's become an even more important resource since COVID-19 began to spread in Tampa Bay.
"We've actually seen a decent amount of volume post-pandemic of regular persons who, unfortunately, lost their jobs and insurance in this, and they need help," Shapiro said.
Garvin said the pediatric program is particularly important for children who may be new to Florida and would normally qualify for Medicaid or Florida Kid Care.
"I have found out that when children move from another state, maybe they're on that type of insurance, there's a lag period for them to get insured. Because of that, we think this should be their medical home until we can get them transitioned into an insurance plan that helps cover their health care," Garvin said.
To learn more about the Clearwater Free Clinic, its pediatric program, and if your family meets the financial requirements to participate, visit clearwaterfreeclinic.org.