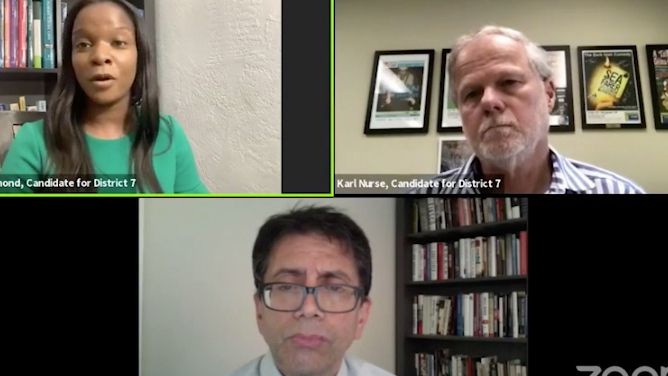 Voting-by-mail begins next week in Pinellas County, and among the most interesting contests on the ballot is the District 7 School Board race between Karl Nurse and Caprice Edmond.
The candidates engaged in a virtual forum Thursday night that was aired on the Allendale United Methodist Church's Facebook page and moderated by this reporter (You can watch the entire forum here).
Here are the candidate's responses on some key issues (some responses have been edited for length).
Racial Diversity on the Board
Karl Nurse: I think what we need to do is keep our eye on the prize. And the prize is the students. The real fundamental goal is can we significantly improve the school system? Can we make sure that we catch the kids up? Can we provide the 60% of the kids who are not really having post-high school opportunities, much better opportunities? And to me, that's the goal. And I think we sometimes get sidetracked with the rest of it.
Caprice Edmond: You're right, Karl. We have to keep our eyes on the prize, and it is our kids. And honestly, we know what the data looks like as it relates to minority leadership. Diversity, and the fact that our county is diverse. We have about 18% African-American students. Seventeen percent Asian, and it's important that they see a diverse leadership. It's extremely important. And as a matter of fact, it's important that they see highly qualified diverse leadership. I'm a highly qualified candidate. My experience is in education and working with children. So yes, I'm African-American, and representation matters.
Do they support the 'Simultaneous Training' that has angered many parents, teachers and in some cases, teachers in the district?
Caprice Edmond: I think that there were some transparency issues as it relates to people being on the same page. There was a contract from the union and with the school board where people misunderstood it. They were under the impression that simultaneous teaching would be limited. Not that several hundred teachers would be teaching simultaneously.
It's not what parents signed up for, and it's not what educators signed up for. We have educators on personal leave because they weren't provided the option of virtual teaching. And now we have the demand for virtual teaching. To me it would have make more sense for a survey to go out, and for the district to really try and work with the teachers. If you would like to teach virtually, this is the content area we need, this is the certification you have. All right, we'll make it work. You can teach virtually from home. We have to think outside of the box.
Now we have classrooms where people are doing simultaneous teaching, and we have educators that took personal leave because they wanted to teach virtually. I can't make it make sense. But I do know that we can do better. We can mend these relationships with educators and that's by coming together and strategizing and collaborating.
Karl Nurse: Well, here is the fundamental dilemma. The first goal was safety. And so if you're going to socially distance the kids who are in brick and mortar schools, that is really – that decision really drives everything else. Because you can't put 25 or 28 kids in a normal classroom so that the teacher only teaches those kids because we decided we were going to try to socially distance.
I get that.
There are some things that you can do to help. Every school has some rooms that are big enough. It might be a gym. It might be an auditorium. It might be a performance room. It might be a band room, which they really can't use right now…It could be a cafeteria, but that's another problem. But you could have some teachers teaching only face to face. And if you did that then you would free up some more teachers to only teach virtually.
But if you're going to socially distance in the same amount of rooms and space that we have, you're going to have to have a significant number of teachers doing both. Does it work well? No.
On grading Superintendent Dr. Michael Grego
Caprice Edmond: I would rate Dr. Grego a "C." He has done some great work, but as it relates specifically to this area, District 7, I feel that we can do more to improve and support our schools.
I think that often times, when you're at the 3,000-foot level, you forget the intricate details of what it takes to run a school. You forget about what the administrators are having to navigate through and what would best support them. Instead of just handing down the top-down approach of management. I feel that if Dr. Grego visited out schools more often, he would see what's going on. He would see some of the great work our amazing coaches, teachers and administrators are doing. And he would see that, although testing helps us, while data-driven metrics helps us improve education…we have children in our schools with many needs and we need to address the issues of the whole child. Not test them to death.
Karl Nurse: Dr. Grego arrived here about the time that Caprice began teaching school (in 2012). In the prior five years before that, we had five different superintendents. The 'failure factories' were a legacy of the previous superintendents. We had five of the lowest ranked elementary schools in the state. We have made considerable progress, but to me it's a little bit like we were in a deep hole, and the fact that we're not out of the hole yet doesn't shock me. But we are clearly going in the right direction. Scores are going up. The school grades are going up. Graduation rates are going up. There is plenty of more work to do. But I would say that in the last 40 years I've known most of the superintendents, and with the exception of Scott Rose, who was superintendent about the time that Caprice was born, I would say that Grego's the best superintendent we've had.