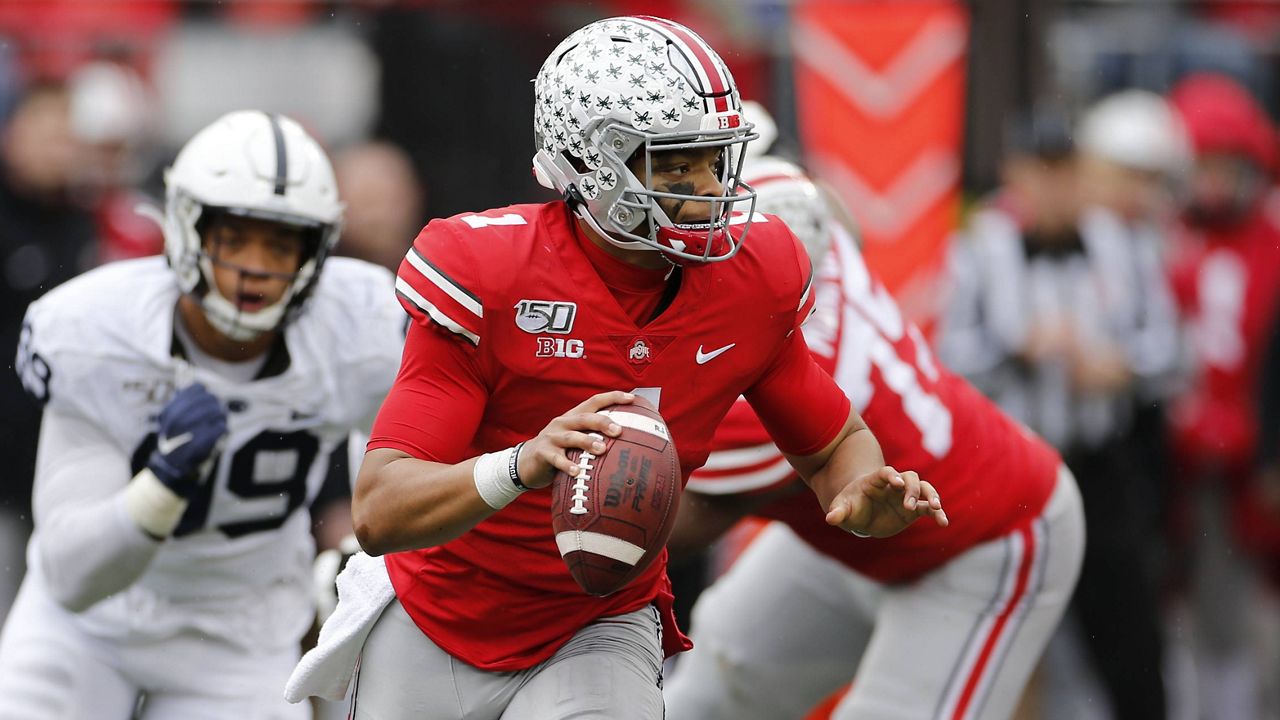 NATIONWIDE — Some of college football's most storied teams, including Ohio State, Michigan and USC, won't suit up this fall due to coronavirus concerns.
In separate votes Tuesday, chancellors and presidents of Big Ten Conference and Pac-12 schools elected to postpone fall sports, most notably football, with hopes of playing in the spring.
The Big Ten became the first of college football's "Power Five" conferences to pull the plug on the 2020 campaign, and the Pac-12 quickly followed suit.
"The mental and physical health and welfare of our student-athletes has been at the center of every decision we have made regarding the ability to proceed forward," Big Ten Commissioner Kevin Warren said in a statement. "As time progressed and after hours of discussion with our Big Ten Task Force for Emerging Infectious Diseases and the Big Ten Sports Medicine Committee, it became abundantly clear that there was too much uncertainty regarding potential medical risks to allow our student-athletes to compete this fall."
"All of the Pac-12 presidents and chancellors understand the importance of this decision, and the disappointment it will create for our student-athletes, the coaches, support staff and all of our fans," University of Oregon President Michael H. Schill said in a news release. "Ultimately, our decision was guided by science and a deep commitment to the health and welfare of student-athletes. We certainly hope that the Pac-12 will be able to return to competition in the New Year."
The historic moves raised questions about whether college football might be scrubbed entirely this fall.
The Big Ten's vote was not unanimous. Shortly after Tuesday's decision was announced, Nebraska released a statement saying it was "disappointed in the decision" and indicating the Cornhuskers are prepared to explore playing this fall anyway.
"Safety comes first," the statement said. "Based on the conversations with our medical experts, we continue to strongly believe the absolute safest place for our student athletes is within the rigorous safety protocols, testing procedures, and the structure and support provided by Husker Athletics.

"We will continue to consult with medical experts and evaluate the situation as it emerges. We hope it may be possible for our student athletes to have the opportunity to compete."
Then, on Tuesday, the Big East jumped on the bandwagon, canceling its spring season because of COVID-19.
The big question now: Will other leagues do the same? The other three major conferences, at least for now, are staying the course. The Southeastern and Atlantic Coast conferences released statements Tuesday saying their plans to play football this fall remain unchanged. The Big 12 is also not planning to scrap its fall season, according to multiple reports.
Meanwhile, a number of college football players, including Clemson star quarterback Trevor Lawrence, have been lobbying to save their season through a #WeWantToPlay social media campaign. They are calling for mandated health and safety procedures and want players to have the option of sitting out the season without losing a year of eligibility.
President Donald Trump has voiced his support for a college football season, tweeting Monday, "The student-athletes have been working too hard for their season to be cancelled."
Trump reiterated his feelings during an interview with Fox Sports Radio on Tuesday, saying it would be a "tragic mistake" if college football is not played.
"These football players are very young, strong people and physically — I mean they're physically in extraordinary shape," the president said. "So they're not going to have a problem. … Could it happen? But I doubt it."
The Mid-American Conference announced Saturday it has canceled its season, becoming the first Football Bowl Subdivision league to do so.
In the lower-level Football Championship Subdivision, nine of the 13 leagues have announced they will not play this season. And NCAA's Division II and Division III fall championships have already been canceled.