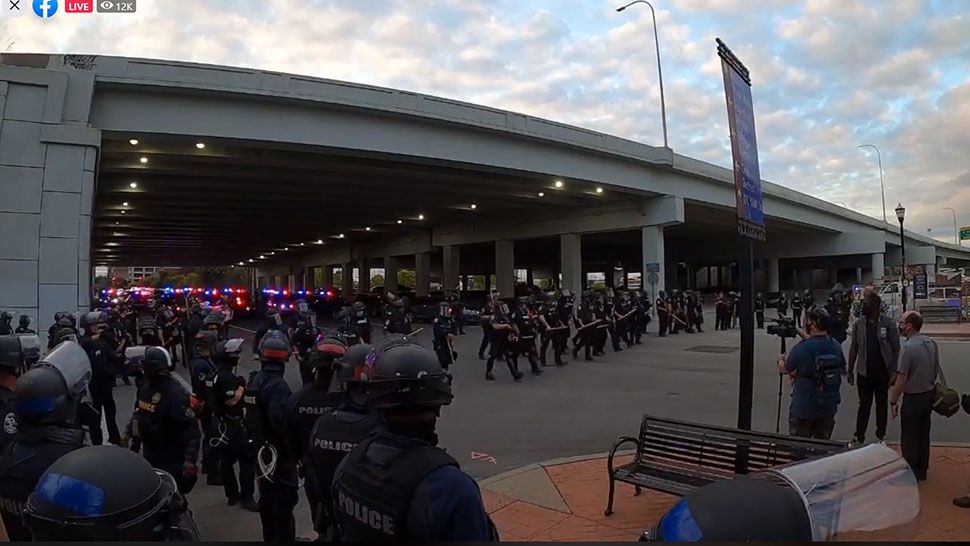 LOUISVILLE, Ky. — It's been more than two days since Attorney General Daniel Cameron announced that none of the officers involved in the death of Breonna Taylor would face charges directly tied to her death. Since the announcement, protests have ensued each night and continue into Friday evening.
Protests remained relatively peaceful Thursday evening. According to the Louisville Metro Police Department, a total of 26 were arrested, most being charged with unlawful assembly, failure to disperse and/or first-degree rioting.
More about Thursday's protests can be found on our Thursday evening blog. You can also find more about the events that have unfolded Friday, including statements from Taylor's family and their attorneys, on our Friday morning blog.
For a look at Spectrum News 1's other protests coverage, you can revisit our other blogs from the previous few nights:
Here are the latest updates:
9:56 pm
9:47 pm
WE MUST BE THE CHANGE WE WANT TO SEE! THIS WAS ONLY THE START! Thank you to all who supported us with the march, even those who could not make it. It's Love 🖤 we have to get rid of stigmas, discrimination, racism and hate! Extremely grateful for this eye opening experience. pic.twitter.com/pa1QX1TCx3

— Malik Williams5️⃣ (@leek_willi) September 26, 2020
9:10 pm
8:47 pm
8:43 pm
8:40 pm
8:33 pm
8:29 pm — From LMPD: About 7 p.m. protestors who had marched from Jefferson Square Park to the NuLu neighborhood on Main Street were asked to move to the sidewalks multiple times to allow for traffic to flow. When that did not occur, an unlawful assembly was declared. Two flashbang rounds were deployed in the air above the crowd to get the crowd's attention, at which time directions were given for the crowd to disperse and move east. Crowds did begin to disperse, with many walking back to the park. Two people were arrested. Information on charges is not immediately available.
8:25 pm
8:14 pm
8:03 pm
If you are out tonight, please begin heading home now. The curfew resumes at 9 tonight (9/25) as part of our efforts to balance First Amendment rights with the need for public safety. pic.twitter.com/qaji5leAJJ

— Mayor Greg Fischer (@louisvillemayor) September 26, 2020
7:51 pm
7:41 pm
7:30 pm
7:28 pm
7:24 pm
LMPD LIVE STREAM
7:07 pm
.@LMPD used flashbangs just mins after blocking a peaceful march and declaring it an unlawful assembly 2 hours before curfew. Last night LMPD blockaded a church before arresting several people. It's only 7pm and police have already escalated to this level. #LouisvilleProtests https://t.co/yDroI3HqdV

— ACLU of Kentucky (@ACLUofKY) September 25, 2020
6:38 pm
Protesters in downtown Louisville march along Main Street as the third night of protests following Wednesday's announcement begin. pic.twitter.com/UQzLp2Jpc5

— Spectrum News 1 Kentucky (@SpectrumNews1KY) September 25, 2020
6:24 pm
5:39 pm
At Jefferson Square Park, you can find a volunteer group called "Therapists for Protester's Health" offering free resources to protesters. @johnnygregg spoke with them about why they feel now, more than ever, they need to be there. pic.twitter.com/ZMHv8a8OYH

— Spectrum News 1 Kentucky (@SpectrumNews1KY) September 25, 2020
5:02 pm
Curfew resumes at 9 tonight. This helps us balance our responsibility to keep everyone — protesters, first responders and bystanders — safe, while still allowing people the time and space to voice their calls for racial justice and equity during the day. https://t.co/FszRdhSc5E

— Mayor Greg Fischer (@louisvillemayor) September 25, 2020