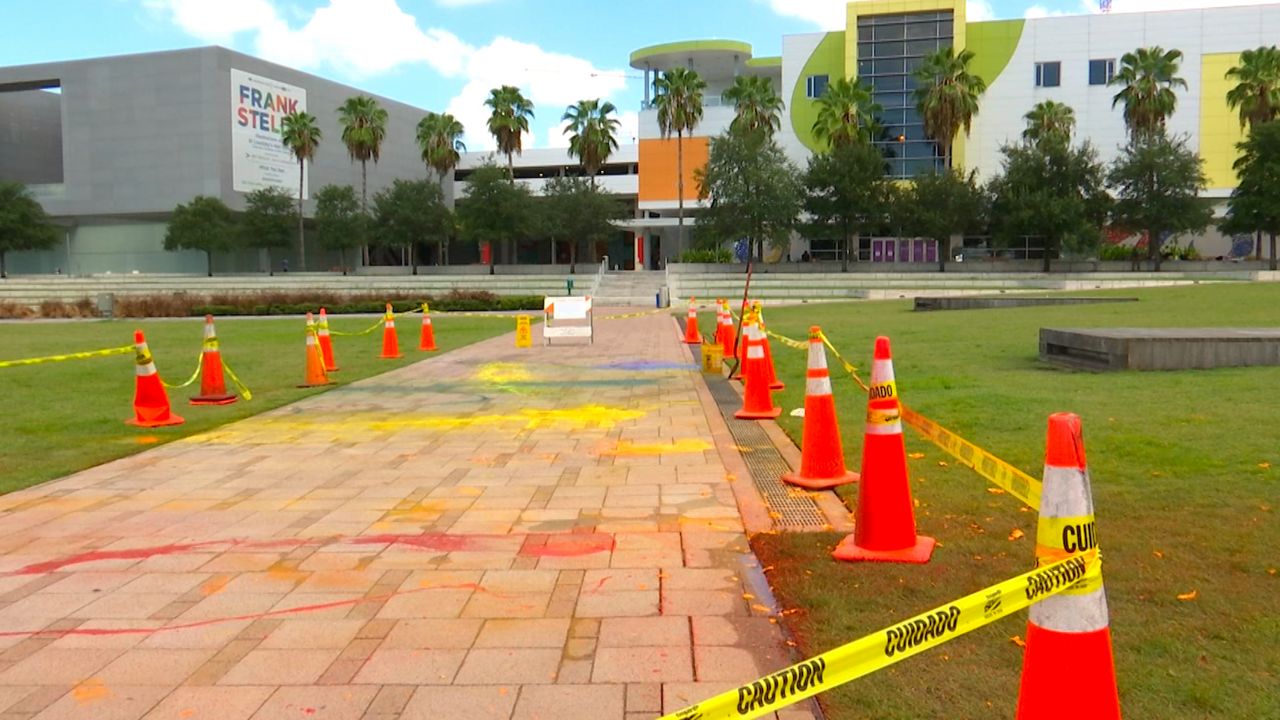 Protesters are speaking out after seven were arrested for painting what they say was going to be a pride flag mural at Curtis Hixon Park over the weekend.
---
What You Need To Know
Streaks of paint still at scene Monday morning
Protesters want to know difference between Sunday's mural attempt vs. Back the Blue mural
7 face criminal mischief charges
---
They say it was a response to the unauthorized 'Back the Blue' mural that appeared in front of Tampa police headquarters last weekend.
"What's the difference between that mural and this one?" one of the protesters can be heard shouting at officers in a video.
Matthew Yampolski and Kai Robinson were two of the people arrested Sunday around 6:30 p.m.
"Probably within minutes of the paint arriving, the police collapsed on us," Robinson said.
Streaks of rainbow paint could still be seen on the sidewalk Monday morning, though it's blocked off by cones.
"I expected to be left alone and to do whatever we wanted because we were doing the same thing they were doing," Yampolski said.
According to the Tampa Police Department, multiple individuals were seen 'throwing paint along a sidewalk' at Curtis Hixon Park Sunday night.
A TPD spokesperson says that officers observed Sunday's incident as malicious intent to damage city property, and that Chief Brian Dugan says that any group who tries to paint without a permit will be arrested.
TPD also tells us the Back the Blue group is now under investigation, but it's unclear if they will end up facing criminal charges.
"Like we were in a public park painting a rainbow. We weren't even obstructing traffic. Like we weren't doing anything to anybody," Robinson said.
The seven protesters are out on bond and face criminal mischief charges.